When battery-powered electric mowers first hit the market, we were HIGHLY skeptical of their capabilities. Battery life, power, and durability were big concerns.
Several recent models, including the 82V Snapper XD and our previous favorite the EGO, have changed our thinking on these products.
Snapper is a well-known lawn mower manufacturer that relies on extensive consumer research to design the best mowers available. It's safe to say that they've done it yet again with their latest creation, a 21-inch self-propelled cordless walk-behind mower.
This battery-powered product focuses on ease of use, light-weight design, and easy maneuverability to ensure it's performance as closely matches its gas-powered brethren as possible.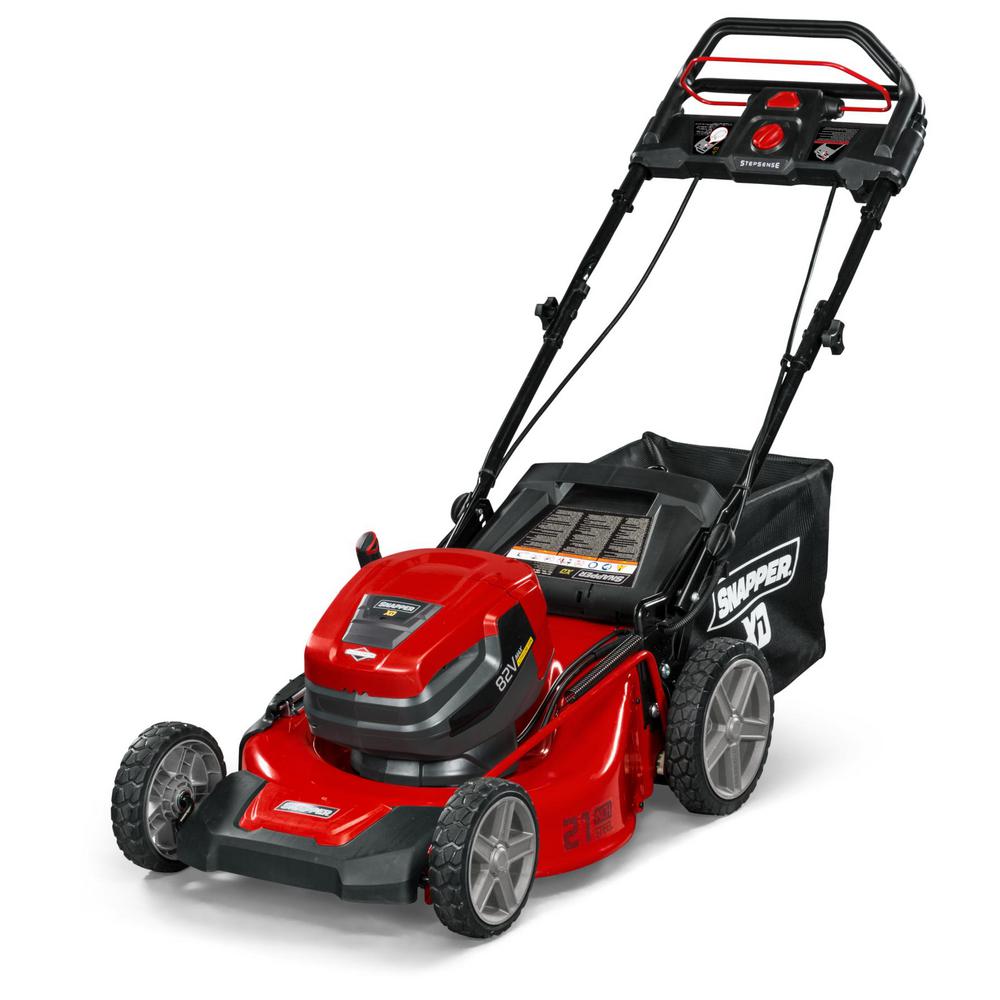 If you've got a relatively small lawn (1/2 acre or less), and grass that isn't ridiculously thick this mower is a great way to ditch your old gas guzzler. You'll appreciate clean cuts with no exhaust fumes, and your neighbors will appreciate quiet operation.
Snapper's Self-Propelled Cordless Electric Mower
Combining lightweight materials and powerful motors give this mower a spectacular strength-to-weight ratio that helps you mow without tiring yourself out.
Not only is this self-propelled cordless mower lighter, but it also mows uneven land better than a heavy, gas-powered model.
You don't have to worry about running out of juice half-way through your yard because intelligent battery management uses two independent power sources.
While it's relatively new, Snapper has quickly become our favorite. And it comes with a 10 year warranty. You can see how it performed against the best battery-powered lawn mowers.
Key features
The blades are spun by a 2.0Ah Briggs and Stratton motor, powered by an 82V battery, providing clean cuts and long runtimes. There are two batteries included, each battery providing up to 45 minutes of running.
The product itself is compatible with 4Ah batteries for users who want to extend their runtime. This mower has a durable 21-inch steel deck and is foldable for easy storage.
A lawn mower has never been easier to use with its push-of-a-button ignition, adjustable height, and load-sensing technology adjusting battery output in real-time. Your clippings can be disposed of as mulch, retrieved from a bag, or side discharged.
Performance
One of the biggest benefits of owning a cordless electric mower is less weight. It makes them significantly easier to handle compared to gas-powered mowers. However, a downside is that many manufacturers compromise on build quality, engine size, and maneuverability just to cut down on weight.
Snapper made no such mistakes and instead opted to weigh in at a beefy 90 pounds. The weight of a Briggs and Stratton motor and steel deck helps you mow over bumps, ruts, and pits of any depth or height.
The product may need some initial adjustments to compensate for weight, but its durable frame and powerful motor make having extra weight a fair trade. In fact, this cordless mower's performance is comparable to gas mowers.
We would recommend that you upgrade both pre-installed 2Ah lithium-ion batteries that are included with your Snapper. Each battery can run the mower for up to 45 minutes after being charged for half an hour.
Swapping a battery is relatively easy as all you have to do is press a button to release the cell. While the included 82V batteries are sufficient for most users, it is compatible with 4Ah Snapper XD Max batteries for those who want more mowing time.
Larger 4Ah batteries take twice as long to charge but will keep your mower running for much longer. Long runtime is a direct result of artificial intelligence (AI) that adjusts power output depending on workload intensity.
When trimming your grass, it dials down power output to preserve battery life, but when you start to cut through thick weeds, a load sensor increases power output to slice through tough grass.
Ease of use
Despite its hefty weight and thick frame, the Snapper is surprisingly easy to use. It fires up at the push of a button and can be easily steered. Not only is the handle ergonomic, but it's also foldable to allow for easy storage. In fact, a foldable handle uses 70% less storage space than would be used with a fixed handle.
An electric lawn mower is also easy to use from a psychological standpoint. You'll be surprised (we were) at how much more pleasurable it is to mow when you're not being bombarded with noise and exhaust fumes.
Cut Quality & Options
A load-sensing AI doesn't just preserve battery life, it also makes for a more even trim. Dynamic power output allows it to maintain a constant speed no matter what type of terrain it encounters.
Bear in mind, thicker grasses such as St. Augustine and Bermuda will take more energy to cut and drain your battery faster. Be sure to adjust the deck height so that it is tailored to your lawn conditions. Whether you decide to mulch, bag, or side discharge clippings, you'll end up with a neat finish that is sure to make all your neighbors jealous.
Maintenance
Like most high-end lawn mowers, Snapper doesn't require much maintenance. Sharpening the rotor blades annually should be more than enough to keep it running at its optimal capacity. While you can get away with skipping this on many gas mowers, you'll notice a significant improvement in performance if you keep the blades sharp.
As with any electric device, be sure to store it in a cool, dry place. We advise you to read the product and battery warranty to see what's covered and what isn't.
Safety features
Just like with any current gas-powered product, a blade engagement lever is used. As soon as this lever is released the blade disengages and stops spinning.
For safe storage, you should remove the 82V whenever the product is not in use. Placing them in the charger is a good idea as it keeps them topped up at all times.
The Snapper is also quite capable on hills. While it is not as powerful as the Yard Force we covered here, it was very capable on rough terrain and slopes.
Cost-effectiveness
While its price is higher than some other mowers, Snapper offers significantly more power than it's competition. In addition, no maintenance is required except seasonal sharpening of the blades. With a gas product, you'll need regular oil changes, fuel, and air filter changes. You should also drain the fuel from a gas mower at each season's end.
This unit only requires battery removal for long-term storage.
Final Thoughts
If you're looking for a way to go electric without sacrificing cutting power, Snapper is now our top pick. It offers lots of power, it's self-propelled, and you can easily mow up to 1/2 acre (more with thinner grasses) without recharging. Yes it's price point is similar to a gas mower, but you'll save money not buying fuel, and it will QUICKLY make up this difference.
More Electric Mower Reviews
Greenworks Pro 20 Electric Lawn Mower
Our 21″ Greenworks Mower Review
Our Zero Turn Lawn Mower Reviews