Have you ever tried to quilt without a quilting sewing machine?
Having done this for YEARS myself, I can sympathize if you said yes.
It can be incredibly difficult and frustrating.  The fabric bunches up, there's never enough room to work, and the tension is difficult to regulate.  As a result it can literally take 2-3 times longer to do the same amount of work.  In this post, I'm going to cover my picks for the best sewing machines for quilting.
But quilting can be fun IF you have the right machine.  The right equipment can help you create BEAUTIFUL quilts with MUCH LESS effort.  When choosing my new quilting machine, I borrowed 6 different models from my local shop.
Quick Quilting Machine Comparison
| Model | Notes | Price |
| --- | --- | --- |
| Juki TL-2010Q | My current machine. Powerful, large throat, excellent tension control, needle up/down. Consistent results. Makes quilting FUN! | |
| Brother PQ1500SL | Large throat, less expensive, but I struggle with threading the needle and thread trimming. Still a great value. | |
| Singer 8500Q | Excellent choice for those looking to quilt AND embroider. Simple and intuitive controls. | |
Quilting Machine Reviews
Whether you are an advanced free motion quilter or just dipping your toes into quilting for the first time, having the right machine makes ALL the difference.
I'll review my favorite long arm sewing machines for quilting.  You won't believe how much easier quilting becomes when you start using the right equipment!
1. Juki TL-2010Q Review(Best Long Arm Quilting Machine)
Key Features
mechanical = powerful & durable
large work space for lots of fabric
time saving features
great feature set for quilters
PLENTY of power for thick layers
easy free-motion quilting
My pick for the best quilting machine is the Juki TL-2010Q.  It has most of the features that a quilter could ever want, including a large throat area, variable speed control, automatic thread trimming, Sub Tension Unit, speed control, needle up/down control, automatic needle threading, ¼ inch and 1/5 inch quilting feet, walking foot, and knee-lift lever.
The feed dogs on this machine can be raised or lowered, making free-motion projects much easier. Because it is a straight-stitch only machine, the stitches will always be straight and true. The only feature lacking is the stitch regulator.
With a throat area of 8.5" wide x 5.9" high, this machines allows for plenty of room to maneuver your larger projects. The included auxiliary table adds another 12"x23" workspace to the left of the needle.
When we mention a sewing machine and frame combo for quilting, this is what we meant. When a powerful sewing machine is combined with a large and functional quilting frame, the results are large, gorgeous quilts with ease and speed.
The sub tension unit feeds the thread evenly through the needle, so no matter how thick the thread is, it will be twist-free. It also provides wonderful, accurate thread tension. Finally, this machine is mechanical, not computerized, so it is super durable and if something does break it is much easier and less expensive to repair.
If you're ready to stop pulling your hair out and start ENJOYING your time quilting I highly recommend this machine.  When combined with a frame, such as the Gracie King Frame, you will be producing beautiful quilts in no time.
The Juki 2010Q is the best sewing machine for quilting that I've tried to date.
2. Brother PQ1500SL(Best Sewing Machine for Free Motion Quilting Machine)
Key Features
powerful and durable
large work space for lots of fabric
easy free-motion quilting
easy to access side bobbin
My second pick is the Brother PQ1500SL High Speed Sewing Machine for quilting.  This machine is a great value. It sews 1,500 stitches per minute, has a built-in automatic needle threader, auto thread trimmers, knee lever, retractable feed dogs, and a 12"x18" extension table. The workspace is 8.6" wide x 5.7" high, allowing for plenty of movement with bulky projects
One feature about this machine that quilters will LOVE is the placement of the bobbin casing. Instead of on the top or the front, the bobbin is accessed on the side. This makes it really easy to change the bobbin thread. And like the Juki, this is a mechanical machine.  Computerized sewing machines are often more expensive to repair.
My only real complaints about this machine are in getting it setup to work.  There's an auto-threading feature, but I struggled mightily getting it to work properly.  I also struggled with the upper thread trimming feature.  Just about every time I used it, the thread was cut TOO short and required re-threading the needle.  That said, it's still one of the best machines on the market.
3. Singer 8500Q(Best Embroidery Machine for Quilting)
Key Features
fast, clean, consistent stitches
large throat for larger projects
embroidery capabilities
easy for beginners
simple & intuitive controls
less expensive price tag
I'm a big fan of Singer's products.  We previously reviewed quite a few of their machines.
The Singer 8500Q, another straight-stitch only computerized sewing machine, is the fastest of the three we've selected at 1600 stitches per minute.
The biggest difference between this machine and the Juki and Brother is that it is computerized.  While I usually opt for non-computerized machines, the ability to add embroidery to your quilts can be downright darling.
It features and automatic needle threader, up/down needle setting, and knee lifter lever.
Like the Brother machine, the bobbin is accessed from the side, making thread change a snap. It also has a large working space of 8.75"x4.76"(throat).  The extension table gives you 22.5″ total workspace.
Variable speed control makes this machine suitable for the experienced seamstress or a beginner! The downside of this machine is that the feed dogs cannot be lowered- it does come with a darning plate, so free motion work can still be done with ease.
This machine comes with a ¼" presser foot, a free motion foot and darning plate, and a narrow rolled hem foot.
Another key feature of this unit is the knee lift.  This is HUGE when working with quilts allowing you to use both hands at all times.
In my opinion this is probably the best quilting machine for beginners as it is significantly less expensive than the Juki, while still offering lot's of useful, time-saving features.
What Makes A Quilting Machine Different?
The answer is complicated.
A quilting machine is a sewing machine, and most sewing machines can quilt at a basic level. It is the huge variety of features and capabilities that really separate the two.
Let's take a look a some of the most important features you'll want to consider if you're planning on quilting on a regular basis.
Work Space/Throat
One of the most obvious differences with a sewing machine made for quilting is the amount of workspace.
The work area is the space to the right of the needle. Looking at them side by side, you can easily see that a quilting machine offers a much larger work area.
The work area is directly impacted by the length of the arm; this space is also known as "throat."
For basic projects like as repairs and easy home décor projects, a large table with ample work space/throat is more of a luxury than a need. But with bulky projects, such as quilts, the throat becomes very important.  As a general rule of thumb, the larger the throat space a sewing machine has, which is required for quilting, the higher it's price.
Long Arm Quilting Machines
Long arm machines offer the most work space of them all.  If you're serious about quilting these machines are your best option.  That's not to say they can't handle other projects but this is where they excel.
While they are designed to be used tabletop, many will fit into a frame. With these frames, instead of moving the fabric through the machine, the machine is moved around the fabric. This allows the quilter to see a large swathe of the quilt while working, instead of focusing on a tiny portion of the larger project.
Embroidery Options
Brother's SE400
A good sewing machine can do basic quilting projects as well as basic embroidery functions. However, automated embroidery options are what most people want when they think of an embroidery machine (like this one).
These machines have the ability to embroider automatically; the user simply plugs in a template and allows the machine to do the rest.
Automated, embroidery-specific options will differ greatly between machines, but any machine capable of quilting will be capable of embroidering. The embroidery may just come in the form of tightly-spaced quilting stitches. If you are only interested in embroidery, such as embroidering on hats or towels, you should consider an embroidery-specific machine instead of a quilting machine.
Thread Tension Allowance
Thread tension management can be incredibly tricky when working on a quilt. The thickness of the material will fluctuate frequently as the seamstress moves across the project.
In general, there are three layers to a quilt: the backing fabric, the batting in the middle, and the pieced-together top. It's kind of like a sandwich. The fluctuations occur mostly because of the top of the fabric.
The top of the quilt is made during the piecing phase. Two pieces of fabric are stitched together, right sides together. The pieces are then opened up, so you have one main piece consisting of two small pieces sewn together. This piece is then ironed face down, so that the seam allowance lies flat.
It is the flattened seam allowance that accounts for the fluctuations in thickness. The machine is happily humming along the three layers of material, when suddenly there is a fourth layer, the seam allowance. This is when the tension can be thrown out of whack, causing all kind of problems and frustrations.
Some machines will be more sensitive than others. Machines that are designed for quilting will be better able to absorb and adjust automatically to this sudden change in thickness, making the whole process smoother.
Ease of Changing Thread
Threading a sewing machine, no matter how basic, can be a source of consternation for seamstresses and quilters. And oftentimes, the more complicated the machine, the more complicated the threading process.  (Thankfully it's easier than threading a serger)
Many machines will have automated threading. Some of these automations work better than others. Typically, the more expensive the machine, the higher quality the automated threading. In addition to saving your sanity and eyesight, automatic threading can save time.
Needle Up vs Needle down
The needle up/down function is more of a luxury than a necessity, though some people swear by it. With this function, the needle is either set to stick in the fabric or out of the fabric when the machine is stopped.
Why is this important? If you are turning a corner, for example when sewing a pillow cover, you need for the needle to stay in the fabric while you turn the project 90 degrees. Once the fabric is turned, you can continue sewing.
Without the needle up/down function, the needle will stop wherever it stops once the machine stops. This could be way at the top, down in the fabric, or anywhere in between.
In order to continue, the user will have to manually lower the needle back into the fabric before turning the corner. With the needle up/down functionality, the needle can be set to automatically stop in the lowest position. This can be a huge time saver if you have lots of corners to turn.
Feed Dogs Can Be Dropped
The feed dogs are what propel the fabric through the machine. They are serrated pieces of steel that sit below the needle and gently grab the fabric, moving it at a set pace.
The feed dogs will move the fabric slower for a short stitch length or faster for a longer stitch length.  They are shown in the picture as item #2.
Movement is good, right?
Yes, unless you want to move your fabric freely, as with free motion quilting. When performing this type of quilting, you are using the thread to "draw" a quilted design onto the project. If you are only using one layer of fabric, this can also be called "free motion embroidery."
In order to freely move the fabric back, forth, and side to side through the machine one needs to lower the feed dogs so that they are not grabbing the fabric and getting in the way.
Most modern machines offer the option to raise or lower the feed dogs. Some older machines do not, but they will offer a plate that can cover the feed dogs so they are rendered useless.
Foot Options
In addition to the various options on the sewing machine itself, there are also different feet that can be used to help in quilting.  Let's take a look at a few of the more common.
Quarter Inch Foot
When machine piecing a quilt top, a quarter inch seam allowance is ideal. The quarter inch piecing foot helps to achieve this, and turn perfect corners.
This foot is used specifically for projects that require a narrow seam allowance, such as quilt pieces.
Some quarter inch feet come with handy guides, while others do not.
In quilting applications, these feet are often used with quilting bars. The bar is inserted or attached to the foot, and is used as a way to maintain straight and even quilting lines.
Quarter inch foot
Darning Foot
With quilting, the whole purpose of the foot is to hold the fabric down firm and flat.
For free motion quilting, the most effective foot to use is the darning foot.
This foot has a larger opening for the needle and often has a spring, allowing the foot to adjust to the ever-changing thicknesses of the quilt.
Darning/Freemotion Foot
Walking Foot
Remember the feed dogs? A sewing machine only has feed dogs underneath the project, and sometimes they need some extra help pushing the fabric through when quilting.
Enter the walking foot.
The walking foot is essentially a second pair of feed dogs for the top of your project. It is useful for thick fabrics, stretchy fabrics, and slippery fabrics. In quilting, it is great to help with quilting straight lines.
Walking Foot
Some walking feet come with different, interchangeable "soles." There is a basic sole, for standard fabrics; a quilting sole, which is more open, allowing for better visibility; and an edge-stitching sole, for edge-stitching quilt pieces or for top stitching stretchy fabrics.
Advanced Features of a Good Quilting Sewing Machine
As I mentioned before, you can make a quilt with just about any sewing machine.  Even a Singer featherweight is capable of quilting.
So what makes a GOOD quilting sewing machine?  Here are a few things to look for.
In addition to a larger work space, features such as a stitch a regulator, an extension table, and a frame offer a great deal of convenience depending on your production needs and experience.
Stitch Regulators
The stitch regulator is not cheap, but is super useful for free motion quilting.  It's only offered on a few of the best long arm quilting machines. (Bernina machines are the only machines that offer this, as far as I know.)
The stitch regulator creates evenly-spaced stitches while free-motion quilting. So as you speed up or slow down the feeding of the fabric through the machine, the stitch will match your speed and keep the stitches even. Without this feature, you will have to manually match the stitch speed to the feed speed, which takes a considerable amount of practice.
Quilting Frames
If you are really serious about producing large quilts with ease and speed (and have a decent amount of experience) a long arm quilting machine with a frame might be for you! These machines represent the top of the line, allowing the user to move the machine around your fabric instead of moving the fabric around the machine.
Yes they are expensive, but they are highly efficient. These machines are really only recommended for quilters who are experienced and who wish to make many, many quilts.
Darning feet, walking feet, quarter inch feet, and other accessories needed for quilting, can be purchased a la carte and attached to most sewing machines.
Anatomy of a Quilt
Quilt top and batting
Quilting is an incredibly intricate art form, with a million opportunities to express one's creativity. Broken down, they consists of four main parts:
The top
The batting
The backing
The binding
The top is what most people think of when they picture a quilt. It often consists of many pieces of fabric of different colors and/or patterns, pieced together to form an intricate pattern. Some quilt tops consist of only one piece of fabric, so the beauty is in the actual quilting rather than the piecing.
The batting is what give the quilt its bulk (also known as "loft") and warmth. This is the middle of the "sandwich." Battings can also vary greatly in terms of thickness and material. Wool is a popular batting material, as is cotton. Polyester is another option, and then there are blends. Some batting may be more flexible than others. And then there are stitching area requirements; some batting allows for quilting to be spread apart, while other batting requires a smaller stitch area.
The backing is typically one or two large pieces of coordinating fabric. This piece of fabric forms the bottom of the "sandwich."
The binding is attached to the edge, closing it up. This part, again, can vary greatly. It can be patterned or solid, satin or cotton, machine stitched or hand stitched. Sometimes quilters like to add a frilly type of trim to the edge. The options are endless!
Quilting Techniques
This is going to sound a little silly, but I'm going to say it anyway: quilting is exciting! There are so many ways to express yourself with a quilt, so many materials to work with, and lots of techniques to try. I will talk about some of the most basic techniques, for those of you just looking to get started.
Piecing
Piecing is the act of attaching small pieces of fabric together in a certain way to achieve a certain pattern or design. There are many different kinds of piecing, from chain piecing to English paper piecing. Chain piecing is an efficient way to make a basic patchwork quilt, whereas English paper piecing is time consuming but produces gorgeous, complicated designs.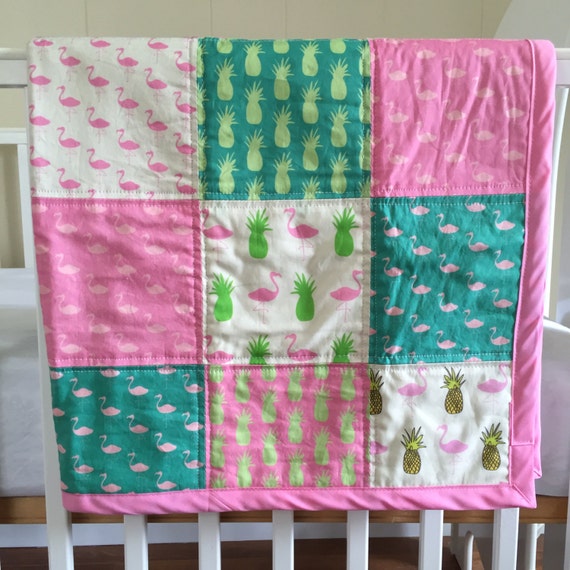 Piecing Quilt
Applique
Applique is the act of applying pieces of fabric directly to another piece of fabric. Applique can be done on all sorts of projects, but on a quilt can be a striking way to apply a particular design to your quilt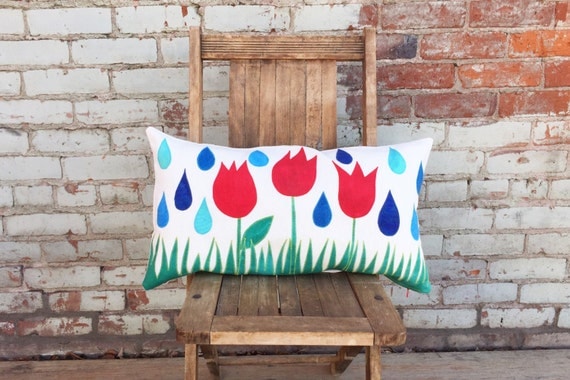 Applique
Free-Motion Quilting
It is as it sounds: totally free! Think of the needle and thread as a pen, and the quilt as the paper. Doodles, song lyrics, and so much more can be the actual quilting in your project!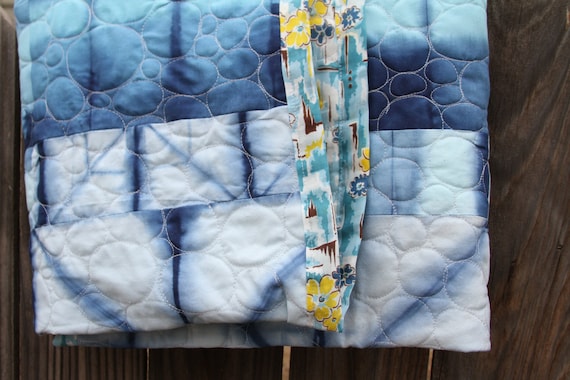 Quilting Fabrics
A quilt can be made of any kind of fabric, from lightweight cotton to heavy denim to gauzy silk.
In India, kantha quilts were commonly made from scraps of old silk sari fabric. The quilting was done by hand with a straight, running stitch. They are simple in design, but are some of the most beautiful quilts out there, due to the patterns in the fabric, the hand of the silk, and the irregularity of the hand stitching.
In the United States, quilts are most often made from cotton. Fabric shops primarily stock what is called "quilting cotton." In the past, families would often use scraps from their clothing to make quilts. Sometimes a set pattern was followed, while other artists, such as the women of Gee's Bend, exercised a bit more freedom and creativity in their designs.
Looking for a Traditional Sewing Machine?
If you're just in the market for a good sewing machine, and not ready for quilting yet, I've reviewed quite a few of our favorites here.  I've also covered a couple others here and here.  Another great entry level model is covered in this article.
References:
https://en.wikipedia.org/wiki/Quilting
http://www.emporia.edu/cgps/tales/quilte~1.html
http://www.historyofquilts.com/underground-railroad.html