*** This post was updated on: August 1, 2022 ***
So what is the best battery powered lawn mower on the market today? While gas mowers have dominated the market for decades, this generation of battery-powered electric lawn mowers are challenging their dominance.
If you're tired of dealing with the maintenance, fuel, and oil required by a gas-powered mower you are in luck.
In this article we'll be looking at the best electric mowers on the market.
If you have a relatively small yard there is an electric mower out there that offers less noise, less maintenance, lower cost of ownership, and is MORE user-friendly.
There are two primary types of electric lawn mowers: battery-powered and corded.
Mower
Models
Features
Best Mower OverallGreenWorks G-MAX PRO 80-Volt Electric Lawnmower

Most Powerful Electric Lawn Mower
21-inch Steel Deck
Approx. 1 Hour Run-Time, 60 Minutes to Charge

Check Price
Yard Force 120V 22-inch Cordless Electric Lawn Mower

Largest Electric Lawn Mower
Best Cutting & Mulching, and Easiest Handling
22-inch Steel Deck
Approx. 1.5 Hours Run Time, 30 Min Recharge

Check Price
Snapper XD 82-Volt Self Propelled Mower – Cordless

Only Self Propelled Lawn Mower with Enough Power
21-inch Steel Deck
Approx. 90 min run time, 60 min recharge

Check Price
Find the Best Electric Lawn Mower on the Market Below
Based on our research and testing these are the 9 Best Electric Lawn Mowers You can buy in 2020
1. GreenWorks G-MAX PRO 80-Volt Cordless Electric Lawnmower
The GreenWorks G-Max PRO is our pick for the top performing electric lawn mower on the market in 2020. It's #1 on our list because it offers a lot of power, superior longevity, short charging cycle, and a great price.
The battery powered GreenWorks G-Max offers VERY impressive results. In fact, our top two choices are closer to a gas mower than anything that we've tested to date.
This cordless lawn mower offers great power, excellent cutting ability, and enough battery life for most smaller yards.
The basis of all of this is an 80V lithium-ion battery system. This same system is compatible with all the products across the GreenWorks PRO line.
Key Specifications
Deck: 21-inch cutDeck Material: SteelBattery: 2 – 2AH 80-Volt Lithium-IonAuto Battery Switch-Over: YesRun Time: 70 min
Charge Time: 30min (2Ah battery) 60 min (4Ah battery)Weight: 62lbsWarranty: 4 Years (2 on Battery)
This battery powered lawn mower comes with two 2.0Ah batteries and easily handled our home with 1/2+ acres with plenty of charge remaining.
Like most mowers in this price range, the GreenWorks uses a brushless electric motor for excellent torque, reliability and, of course, efficiency.
The G-MAX offers bagging, mulching, and discharge options. With all this functionality, you'll never miss the oil changes, noise, and fumes of your old gas mower.
Pros
I was very impressed with the mulching and bagging functions, and it had no problems with the vast majority of our lawn.
There are a few places that grow pretty thick and required a second pass when bagging, but even my old mower sometimes struggled in these areas.
While the GreenWorks offers slightly less power than the 82V Snapper, I was blown away by its performance. It comes in at 28lbs lighter and offers similar run-time, making it my pick for best battery-powered lawn mower on the market in 2019. It's as close to a gas mower as anything I've tested.
Update: We recently tested the Yard Force 120V mower. It is more expensive but offers performance that matches a gas mower.
While even the best battery powered lawn mower manufacturers tell you to avoid wet grass, this unit did quite well. The speed from the 80V motor and lithium-ion battery was more than enough to ensure an even cut.
One big benefit of going electric is being able to store your lawn mower vertically. It folds up easily and stores quickly. At nearly 62lbs you most likely won't be tossing it up on a shelf, but once folded up it took less than half the space of my old mower.
Generally speaking, you have to sacrifice durability to save pounds, but the G-MAX uses a steel deck that can handle the rough and tumble of just about any lawn.
Cons
Like many of its competitors this cordless lawn mower utilizes a brushless motor. It can sense load and allocates more juice when needed. Although this sounds like a great feature, in reality, the lawn mower has no way of knowing what it's about to encounter in your lawn.
As a result, you sometimes end up with grass that doesn't get cut evenly.
To be fair, the power sensing feature was consistent across all the models I tested. Simply slowing down before you hit thicker grass will help alleviate the problem.
For lawns with Bermuda or St. Augustine, you should expect shorter run-times because of the density of those particular grasses. Even with a powerful lithium-ion battery denser grasses will require more attention.
The only other thing I would like to see is a self-propelled model. As of right now, there's not one available, though GreenWorks says it's in the works.
Performance
Along with the 82V Snapper XD, the G-Max PRO 80V model is the closest thing to a traditional engine that is available on Amazon or anywhere else. Starting it up is as simple as pressing a button. You'll be amazed at how quiet it is. You can literally talk on the phone while using this cordless lawn mower.
Height adjustments is quick and easy with 7 different levels and can quickly be changed using a single lever.
Maneuvering the G-MAX is VERY easy. The 8″ front and 10″ rear wheel sizes combined with its overall lightness makes maneuvering around objects and getting it into tighter spaces a breeze.
The only time I noticed the engine bogging down was when I was in taller, tough grass on a humid day. At this point, it required two slower passes where gas mowers might do it in just one.
As expected, the side discharge works great, but this isn't much of a test. I was really impressed with both the bagging and the mulching capability. Even in taller grass, both features performed really well.
Many electric lawn mowers lack the speed to create enough suction to bag all the clippings consistently, but this was only a problem in the densest parts of our lawn, and I found that slowing down before hitting those patches helped immensely.
The G-MAX PRO is listed as having a 35 minute run-time per 2Ah battery (it comes with two), and I was actually able to push it beyond that to finish both my front and back yard. So if you always have the second on the charger, you can just about run all day.
If you opt for the 4Ah battery, you can expect a longer run-time of about 50-60 minutes, and extra ones are available on Amazon. It also only takes about 1 hour to charge this battery fully. If you want more information, see our Greenworks lawn mower review.
GreenWorks provides a 4 year warranty, with a two-year battery warranty. The motor has a 10-year guarantee, which is something we really like about this particular unit.
If you're looking for an electric lawn mower that offers similar features to gas mowers, look no further. The Greenworks amazed me with its capabilities, maneuverability, and run-time.
The fact that it folds up and may be stored vertically means it takes up VERY little room in your garage. At 62 pounds, it weighs several pounds less than the 3rd place Snapper (and most other products we reviewed).
In terms of maintenance, all you have to do is sharpen the mower's blades annually.
2. Yard Force 120V 22-inch Cordless Electric Lawn Mower
While the Greenworks 80V offers impressive power, I recently had the opportunity to review the Yard Force YF120v RX, the most powerful electric lawn mower for 2019.
The YF120vRX battery powered mower is truly impressive. It's as good or BETTER than a number of gas mowers we've tested.
In terms of cutting, bagging, and mulching, this guy beats all the mowers in this competition.
The only downside is that it's more expensive than the competition, which is why it is number two on this list.
Key Specifications
Deck: 22-inch cutDeck Material: SteelBattery: 2.5AH 120-Volt Lithium-Ion (2 Included)Auto battery switch-over: Yes
Run Time: 100 minCharging: 30 minWeight: 90 lbsWarranty: 5 Years (2 on Battery)
Pros
This mower rivals many well-known gas engine lawn mower brands:
Best cutting and mulching capabilities in our reviews
Strong enough to bag difficult grasses
Charges quickly for uninterrupted mowing of large yards
Durable deck with easy height adjustment (7 levels)
As with other mowers in this comparison, this is a mower with load sensing technology. It ramps up power when it senses a thick spot. While it can still bog down, it performed better than everything we've tested to date. It even ranked as one of our best lawn mowers for steep slopes.
In our tests, each lithium-ion battery lasted about 40 minutes in the mower. So we could leave one on the charger and mow continuously by switching them when needed. This means that even if your yard is larger, mowing is still really easy.
Cons
This cordless lawn mower is fairly heavy. This isn't an issue during mowing as it is self-propelled, but if you need to move the machine for storage, it can be a little more cumbersome.
One quirk I also noticed was that releasing the lever which controls the self-propelled function in preparing for a turn will make the wheels lock. This is most likely a safety feature. If you give the mower a push with your hand, it will unlock, allowing you to turn easily.
Electric lawn mowers with the best features and quality come at a price. The Yard Force costs more than the mowers from other manufacturers in this competition.
Performance
The Yard Force is truly a step up on the list of top electric lawn mowers, thanks to the 120V battery showing in all aspects of its use.
This mower was even able to power through thick and slightly damp grass with little difficulty. Especially difficult areas may require multiple passes to ensure proper mulching, but otherwise very little in the way of clippings were left behind.
We haven't had the opportunity to try this model on leaf collection, but the powerful suction leads me to believe that it will be able to handle it without difficulty.
The 12″ rear wheels are the largest of the group. Why does this matter? Being larger allows you to move easily and helps keep the mower going in a straight line when it encounters irregularities and bumps in your yard.
Although it is the most expensive, the Yard Force is probably the only cordless model I would recommend for a home with thicker grasses or a large lawn. If it weren't for the higher price, this mower would easily get my vote for best performing electric lawn mower anywhere today.
3. Snapper XD 82-Volt Self Propelled Cordless Electric Mower
Last year, this cordless mower held the top spot in our list. The Snapper XD electric lawn mower is now in 3rd place on this list, by just a nose. Thanks to an 82V power supply, it VERY closely matches gas-powered mowers.
The only negative to find with this mower is that it's 10lbs or so heavier than the #2 Greenworks, though they are similar machines. However, this is a self-propelled mower so it's actually easier to use.
The Snapper XD incorporates a brushless motor that allows the mower to sense when more power is needed based on grass thickness.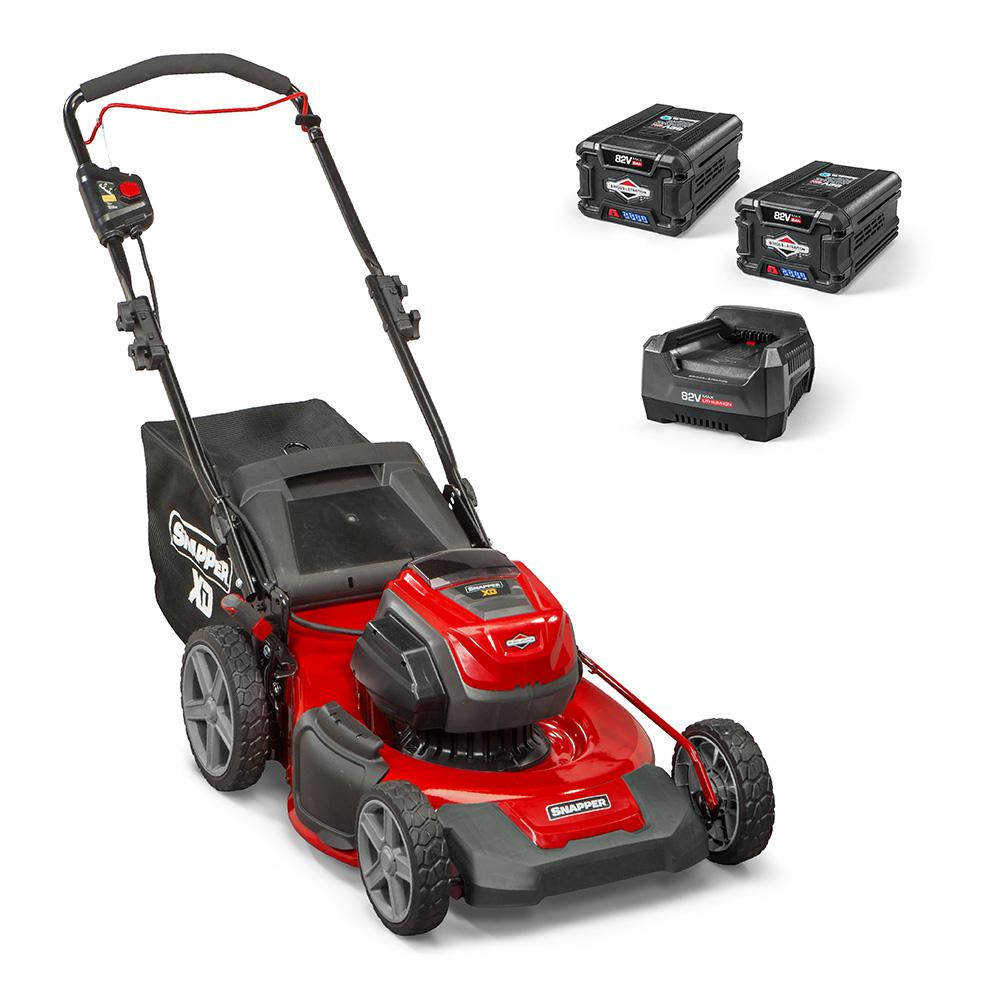 Key Specifications
Deck: 21-inch cutDeck Material: SteelBattery: 2 – 2AH 82-Volt Lithium-IonAuto Battery Switch-Over: YesRun Time: 90 min
Charging: 30min (2Ah Battery) 60 Min (4Ah Battery)Weight: 74 lbsWarranty: 5 Years (2 on Battery)
Pros
Of all of our reviews, this mower was the first that we thought was on par with a traditional engine.
And it shows in everything it does, such as:
Excellent mulching capabilities
Bags like traditional lawn mowers
Pushes through thicker grass
A metal deck, which is more durable than the plastic of competing electric products
I was seriously impressed with this mower. When it comes to power and flexibility, it's the next best thing to a gas-powered mower.
Cons
This power and the quality of the construction DOES come with some additional weight. While the EGO Power+ tips the scales at 65lbs, this comes in 50% higher at 90lbs. This makes it a fairly large machine, and the heaviest cordless mower of our 2019 reviews.
This puts it on par with gas-powered mowers, so if this is an issue you might want to consider their self-propelled mower.
An 82V battery, paired with a Briggs & Stratton motor, allows it to sense the mower's needs "on-the-fly".
To do this, it utilizes a complicated artificial intelligence (AI), which basically translates to saving energy when you don't need it and more when you do. This helps extend the charge life of the battery and allows this cordless mower to handle larger yards than it's competitors.
Performance
The Snapper is on top of our list for the best alternative to a traditional gas mower. Just as with the G-Max, the only time it bogged down was with extremely tall grass on a humid day.
At this point, it required two slower passes where a gas-powered engine would likely cut it in just one.
Cutting height adjustment is extremely easy to set to one of 7 different levels.
It's capable of mulching, discharge, and bagging. We did notice that, when bagging, you do not get the same amount of suction as with an engine so there were more clippings left behind than we would like. Slowing down in difficult areas greatly improves this on the Snapper.
If you're looking for an electric lawn mower that offers similar features to your existing gas mower, look no further. This mower amazed us with its performance, maneuverability, and run-time length.
The fact that it folds up and can be stored vertically means that it takes up VERY little room. If being 74lbs is an issue for you, see why we chose our 2nd place mower.
For care, all you need to do is sharpen the blades annually and remove the batteries if you know that it will not be in use for weeks. For more information, you can read our full Snapper XD 82V review.
4. Snapper XD MAX 21-inch Cordless Lawn Mower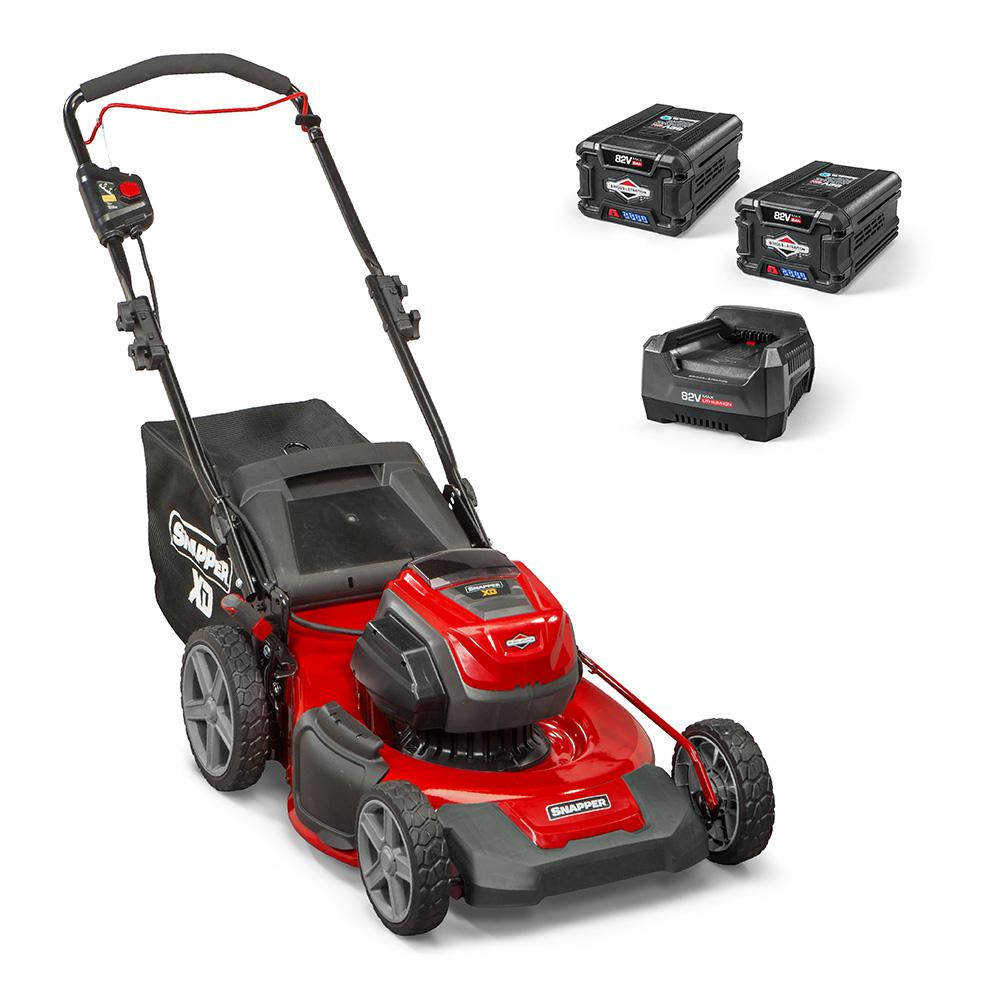 Self-propelled models are nice, but we found that the push mower actually did a better job with mulch and clippings.
This may be because it provides maximum electricity to the blade since it is propelled by you.
But if your grass is thicker, or you are counting on your mower to leave no trace of grass clippings, this is the best choice.
Other than the mulching capability, we could find no significant difference between this and the self-propelled cordless mower.
This version of the Snapper also incorporates a brushless motor that senses when more power is needed for thicker grass. As with other models it's typically a little slow to react. If you're going to purchase a cordless mower this is just something you'll need to get used to.
Specifications
Deck: 21 Inch CutDeck Material: SteelBattery: 2 – 2AH 82-Volt Lithium-IonAuto battery Switch-Over: YesCutting: 90 min
Charging: 1 Hour (4Ah Battery)Weight: 74 lbsWarranty: 5 Years (2 on Battery)
5. EGO Power+ 20-inch Battery-Powered Cordless Mower
The folks at pulled out all the stops with this electric lawn mower. The EGO Power+ 20″ Lawn is among the top advanced mowers for 2019 in the rechargeable lawn mower category.
Until we had a chance to review our top ranked machine, this mower was the closest of all those we tested to a gas unit.
The 20-inch deck is comparable to many combustion engines, but at only 63 lbs it is considerably lighter.
One thing to notice with any small electric mower is that manufacturers have a tendency to make the deck out of plastic instead of metal, which is why this electric mower is not higher on our list.
Specifications
Cut Width: 20 InchesDeck Material: PlasticBattery: 5 Ah, 56-Volt Lithium-IonAuto Battery Switch-Over: YesDual Blades: YesCutting: 55 min
Charge: 30minPounds: 62 lbsWarranty: 5 Years (2 on Battery)
Pros
The mulch management allows for mulching or side-discharge, depending on your preference.
The EGO Power+ cordless mower is surprisingly quiet. Their literature states that it operates about 30% quieter than comparable gas lawnmowers, but it seems even quieter than that.
The foldable design is another nice feature, and it's quick to fold up and store. This premium mower includes LED headlights to allow for early morning or evening work, which is possible thanks to equipment this quiet.
The EGO Power+ is available with three battery pack options. For large yards, there's a very large 7.5Ah (Amp-hour) EGO power package (1.5 hours runtime). There is a 5.0Ah (runs for 1 hour) EGO power package for slightly smaller acreage, and then there's the 4.0Ah (45 minutes) package. All three have a fast charge of only a half hour, and all are available on Amazon.
You can complete a small or medium-size lawn on a single charge, as long as you don't choose to wait weeks between mowings. This is one of the electric lawn mowers that will handle high grass, but the extra effort WILL drain the battery faster. The EGO Power+ is not self-propelled, but this shouldn't be a problem because it's incredibly lightweight, considering what it delivers.
Cons
We read some complaints from Amazon reviewers about how it performs in damp grass, so we tried that too.
Two things. It slows pretty significantly if things are wet, so it's easy to make swirl marks where it cuts.
Secondly, the grass tends to stick to the plastic chute when it is wet, rather than cleanly entering the bag. This is not a problem that is unique to battery powered models and we ONLY noticed this if the grass was damp.
Performance
OK. The EGO Power+ is truly a solid electric lawn mower. Assembly and startup are a snap. Literally the push of a button.
Cutting height is adjustable from a low 1.5 inches to 3.5 inches. The lever located on the mower's left side makes changing the height efficient and easy.
We were very surprised by the amount of power it has and how QUIET it is, thanks to the 600W high-torque electromagnet that spins at 3300RPM.
The lithium-ion battery was solid through a 1/3 acre lot (about 40 minutes). In dense sections of our lawn it did slow down just a touch, but we just adjusted our ground speed accordingly and noticed very few missed spots. The brushless motor offers the same "smart sensing" as other mowers in this comparison.
The battery can charge in only 30 minutes. With two, you could charge one while using the other and never stop.
The unit has a folding design for standing it on end, which is great for saving space.
All things considered, the EGO is among the best cordless mowers for a smaller lawn.
Behind Snapper but…
While it did not take top place in our reviews, the EGO does weigh 30% less. This translates to being easier to push when mowing (unless of course, you opt for the self-propelled). If a lightweight mower is important for you, the EGO might be the best way to go.
Since it's based on 56V batteries, it's not going to offer the same power, but still has PLENTY for thinner lawns.
The 30 minute recharge time makes this mower very convenient because you will not have much downtime. The dual-blade design is a big plus, as well as the automatic switchover for the batteries. If you'd like more information, see our full EGO LM2101 lawn mower review.
6. Sun Joe Mow Joe 14-Inch Electric Lawn Mower
The Sun Joe MJ401C lawn mower lets you do away with fuel, exhaust, and the pull cord, of course. You also don't have cords to contend with, because this machine is a 28 V, 14-inch cordless model.
The Sun Joe rechargeable lawn mower uses the EcoSharp battery system and has a discharge time of 45 minutes (up to 65) on a single charge, powering a brushless motor for battery efficiency.
An instant start gets you mowing quickly, and the ergonomic handle placement provides maximum comfort. With an all-terrain wheel design and 6 height positions, it's the perfect cordless product for small and medium-size lawns.
The mulch bag is of the 9.25 size to hold plenty, and it detaches conveniently for disposal.
The smallest of the three reviewed, the SunJoe mower will cut a path that is just over 14 inches wide. But for a small lawn, this may be the best choice. You'll get a good 40 minutes of uninterrupted mowing, though you might be able to keep going for a full hour in thinner grass.
The Sun Joe is very light, at only 29 pounds, so it's perfect for seniors and for younger people who struggle to maneuver a traditional mower.
Specifications
Cut Width: 14 InchesDeck Material: PlasticBattery: 4AH 28-Volt Li-IonAuto Battery Switch-Over: NoCutting: 40 min
Recharging: 1.5 HoursPounds: 29 lbsWarranty: 5 Years (2 on Battery)
With 6 height adjustments and brushless motor, the all-terrain Sun Joe is a remarkable lawn tool, and I would choose it over a Ryobi machine.
7. Black+Decker MM2000
The Black+Decker MM2000 is the best corded lawn mower on the market. It's a great option if your yard is small. It is quick, handles thicker grasses, has great mobility, and has flexibility for disposal of clippings.
The Black and Decker mower has a durable 20″ deck and is equipped with a 19-inch blade. At 13 Amps, it is powerful enough to tackle just about any lawn. That said, you will get better results in taller, thicker grass if you walk more slowly.
There are also definitely issues that come with having a cord on your mower. With a little practice you can come up with a strategy to ensure you cord is always out of the way.
However, there are advantages to never needing to recharge. These lawn mowers offer greater power than all but the best cordless electric lawn mowers.
It offers mulching, side-discharge, and rear collecting, allowing you to dispose of your mulch as you please.
Seven height positions can be used for mowing, from a low 1.5 inches to 4 inches. Height adjustments are made with a single lever, located on the top of the housing.
The Black+Decker offers excellent maneuverability with 10″ rear wheels, making it easy to push and navigate garden beds and trees and to move across uneven terrain.
This hard-working mower is remarkably compact, comfortable, lightweight at only 53 pounds, and has a 4 year guarantee.
Specifications
Cutting Capacity: 20-Inch Width CutHeight Positions: 7Weight: 53lbsDeck: Steel
Final Thoughts
We rated the 13 Amp Black+Decker best for a couple of major reasons, including the tough deck and weighing a relatively light at 53 pounds. We compared this to Ryobi, and it's a more durable choice for someone moving to a corded lawn mower. Although Ryobi is in the same budget range, these are not the same outdoor tools.
The mower is equipped to handle most lawns and has a folding design to make it quite small. All in all, Black and Decker has a great unit that is worth buying.
Click Here for Black+Decker MM2000 Corded Mower Price
8. Sun Joe Mow Joe 20-Inch 12 Amp (Corded)
We end our list with the Sun Joe MJ408E corded mower. With a wide path, side discharge, 14.5-gallon rear-collection bag, and seven-position manual height adjustment, you can make your lawn look just as you envisioned.
This may be the best green solution for lawn grooming, as it requires no gas, fumes, or pull cords. Plus you will not have to take it to a shop for a new spark plug and tune-up.
It's ideal for a small or medium-sized lawn and will handle tough grass. You can do all your own lawn-care tasks without the machine taking hours to maintain. With corded mowers, start-up is immediate – just the push of a button.
Specifications
Cutting Capacity: 20 InchesHeight Positions: SevenWeight: 52lbsWheels: 10 Inch Rear, 7 Inch FrontDeck: PlasticDetachable Bag: YesWarranty: 2 Years
When you use the SunJoe MJ408E for the first time, you will wonder why you didn't choose an electric mower sooner. Of course, you have no pull cord, and no gasoline, but you also get a mower that will do the job but is not very large and only weighs 52 pounds. It has a folding design for storage, a two-year guarantee, and a 12 Amp motor, so you can mow with peace of mind and not worry about replacement or repair any time soon.
The wider cut will allow you to cover lawns up to medium size without spending a whole day doing it. Choose from seven height positions and benefit from the large, mulch bag for convenience.
9. Earthwise 20-Inch (Corded)
The name says a lot about the benefits of this electric lawn mower. The Earthwise Lawn & Garden 50520 is a great budget option to get you away from fumes and starts immediately.
The rapid height adjustment makes it extremely easy to operate and choose the right height, and the width allows you to cover a lot of yard shortly.
Earthwise also has the convenience of a 3-in-1 system for mulching, rear collecting of clippings, or side discharge.
The Earthwise is very maneuverable, handles well, has a cutting ability that is equal to an old fashioned mower, with the convenience of all-electric operation. The metal frame itself will hold up for at least five years, providing long-term service without worrying about breakdown.
With the cord giving you a 100-foot range, you can reach almost any part of a small or a medium-size yard, which can be a great benefit if you've had to try hard just to get your mower to start in the past. With the Earthwise mower, you just plug in and go. And, you will be doing your part to protect the environment and air you're breathing – no exhaust.
Specifications
Cut: 20 InchesHeight Positions: Seven (1.5 Inches to 4 Inches Max)Weight: 62lbsWheels: 9 Inch Rear, 7 Inch FrontDeck: MetalDetachable Bag: Yes
The 12 Amp corded Earthwise mower makes it easy to do your part to protect the environment. It's a bit heavier than a number of other mowers at 62 pounds but, with a metal frame, it is built to handle almost any conditions in a small to medium sized lawn. Reaching anything within 100 feet, you can get to the far corners of your yard.
The manufacturer backs it with a 2 year guarantee, and we liked that you can adjust the height to 4 inches (for those who want to leave their lawn a bit longer). We directly compared the Earthwise to Ryobi and found that the Earthwise does a better job than the Ryobi and is more easy to push. Ryobi has made progress, but the Earthwise is still the best purchase.
Electric Lawn Mower FAQs
Are Battery Powered Mowers Any Good?
Electric lawn mowers offer very good value. While not as powerful, they are much quieter, more friendly to the environment, require minimal maintenance, and do not require gas or oil.
With proper maintenance and care, they will last as long as a traditional push lawn mower. The batteries will eventually wear out, but this usually takes 5-6 years. Replacement batteries are easy to find.
How long do battery powered electric lawn mowers last?
A battery-powered cordless lawn mower can easily last 5 or more years. Lithium-ion batteries provide ample power and can be recharged in as little as 30 minutes. The top battery powered mowers now rival traditional mowers.
What is the best self-propelled electric mower?
The Snapper XD 82V is the best self-propelled electric lawn mower. It offers smooth control with a mower that is powerful enough to handle yards of up to 3/4 acre. Self-propelled lawn mowers work by pulling power from the motor to drive the wheels. This makes mowing much easier.
What is the most powerful electric mower?
The Yard Force YF120V is the most powerful cordless electric lawn mower on the market. This mower can handle thick grass and can run for over an hour on both batteries, which can be used one at a time to extend cutting times.
Which Electric Lawn Mower is Best?
The Greenworks G-Max 80V is our pick for the top electric lawn mower on the market. It offers a good balance of power, features, and price.
Is an Electric Lawn Mower Better or Gas?
Electric lawn mowers are better for 4 reasons:
Zero emissions and are better for the environment
Quieter than gas lawnmowers
Over time, the mowers are less expensive as they require no gas
Electric mowers don't require you to keep gas and oil in your garage/shed
What does brushless lawn mower mean?
Brushless lawn mower refers to the electric motor used within the tool. A brushless motor can sense workload, so when more power is required, the lawn mower draws more power to help complete the task.
Choosing a Corded vs. Cordless Electric Mower
You essentially have two choices when it comes to electric lawn mowers, cordless and corded. Let's take a quick look at the advantages of both to determine which mower is best for your home.
With electric lawn mowers, you will see some limitations that you don't experience with a gasoline mower. For example, with a corded option, you are limited by the area the cord will let the mower reach. You must have access to an outlet, and you may need a number of extension cords to reach the outer limits of the property.
Corded electric mowers are better suited for small yards with good access to an outdoor outlet.
Choosing to go with a cordless machine eliminates this restriction, but you are then subject to a battery telling you whether you can continue to operate the mower and they generally have higher prices.
Improvements in technology have greatly extended the hours that you get from the charger. However, you'll still have to be aware of the discharge time remaining in a rechargeable electric lawn mower.
Battery Powered Lawn Mowers
Pros
Greater Mobility
Cordless Mowing
Can change batteries as needed
Cons
Some electric models have short battery life
A replacement battery is expensive
Less power than other mower types
Electric options are typically easy to maneuver and offer complete freedom of movement. Today's batteries charge quickly, supply a great deal of energy, and can run longer than anything that's come before.
As with any battery, it will eventually run out of juice. Keeping a second one charged can keep this from slowing you down, and Amazon is probably your best source for them. Some can charge in only 30 minutes, which means that you can rotate and keep mowing.
Corded mowers can cut for longer periods of time as they do not require recharging. They will not do as well on tall grass, and really don't like wet grass. So if you live in high humidity climate, you might have to mow frequently or go with a different option.
Corded Lawn Mowers
Pros
No batteries to charge or replace
Won't die before finishing the lawn
Cuts the lawn cleaner than a cordless
Best for a home on a budget
Cons
Cords difficult to manage
May need extension cords to reach entire lawn or around home
Storage of extra electric cords
Mowers with cords tend to be suited for high grass or humid climates. This will keep the blade from ripping the grass out by its roots instead of cutting it.
On the flip side, you will need extensions to reach every corner of your lawn and possibly around your home. This also means you'll still need to be quick to manage the extensions so that they don't get run over. This may be frustrating, but it gets much less so once you've found the best pattern that works for you.
Considerations When Choosing an Electric Mower
All of the cordless mowers we reviewed use lithium-ion batteries, as they offer huge advantages in:
Power Output
Time to Recharge
Usage Time
We'll cover power output, weight, durability, deck size, cutting height, and a few other important factors that helped us determine which is the best electric mower for the money.
I'll also discuss some of the disadvantages of electric mowers. It's not all roses when it comes to electric and cordless lawn equipment. I'll separate the hype from the real world performance to help you determine if an electric model is your best option.
By the time you're done reading these reviews, you'll know (a) if an electric mower is a good solution for your yard and (b) which model is best suited for your needs.
What are the biggest benefits of electric lawnmowers to homeowners? Often the response is rather simple. The lack of noise and not having to buy gas. There is very little maintenance and since they are lighter they are easier to push.
That said, even the best electric options are not perfect. Let's take a look at the benefits and dispel a couple myths while we're at it.
Lower Cost of Ownership
Depending on the mower you're looking at, many electric units are priced comparably to mowers that homeowners may already have. They use electricity, which is cheap, so there is a welcome savings with the machines.
The downside?
A battery eventually wears out and needs to be replaced. They can also just die on you. In addition, should anything go wrong, it will be harder and cost more money to find someone to service it for you.
Lower Noise Levels
You'll experience a significant difference in noise level with a well designed electric product. Measurements made during comparison tests show mowers running on gasoline produce between 95 and 105 decibels of sound. This is above the level considered safe for avoiding hearing loss.
Less Pollution Around The Home
Electric motors create no pollution. Gas mowers often emit just as much exhaust as several cars. If you're concerned about the environment, these lawn mowers are at least much cleaner.
Lightweight & Easy to Use
You may also find the mower to be a lot easier to use, simply because it is designed to start at the touch of a button.
Traditional push mowers require a pull start, which is fine if your mower is fairly new and is kept in perfect running condition. However, older mowers are sometimes quite difficult to start. A well-maintained electric model generally has a single item of upkeep – sharpening the blade.
Pushing these electric machines takes less effort as well because this kind of mower is generally quite a bit smaller than a gas product of the same dimensions. You'll enjoy the quiet operation of electricity, compared to the exhaust and engine noise of internal combustion. In general, an electric option will be a simpler, affordable, and less-stressful tool.
Thick Lawns or Wet Grass
Because they're not as powerful, some mowers won't cut through thicker grass as well. They might also struggle with damp grass.
You can find budget electric lawn mowers, and Ryobi may be one of the best of these, but to get anywhere close to what you would expect from a gas machine you'll spend a bit more. This is especially true of cordless models.
If you feel like you're ready to make the jump to electric, it would be worth giving thought to the conditions in which you currently mow. Is your lawn usually damp or especially difficult to cut? If so you'll want a mower at the more powerful (and expensive) end of the spectrum. If you need help determining what grass you have, check out this tool.
Advantages of Battery-Powered & Corded Mowers
Electric mowers have a long history too. They've been available to homeowners for decades, but back then all the models required somewhere to plug in.
In the last 20 years, Lithium-ion technology has developed to the point where it can offer enough discharge time and life to be used by homeowners. Most consumer models on Amazon are push only. There are brands that have riding mower options, like Ryobi, but they're considerably more expensive. For the cost of the riding version of the Ryobi, you could be shopping for a large traditional machine.
If you would like to see a guide to the top riding machine reviews, including Ryobi, leave a message in the comments below.
Here are some of the advantages of electric models.
Quiet operation: Gas engines are generally twice as loud as electric. This means you can mow at any time of day and not disturb the neighbors.
Lightweight: The electric motors are significantly lighter than internal combustion engines. Many electric options weigh under 60lbs. This is especially important for older folks.
Eco-Friendly: Not burning fuel means you're not releasing carbon monoxide into the air around your home. There's also no used oil to dispose of, though eventually a battery will wear out and need to be replaced.
Little to no maintenance: Engines require regular oil changes, draining the fuel at the end of the season, and replacing spark plugs. An electric mower requires none of this.
Ease of use: Engines generally require a pull start, where electric mowers have a button. Much easier.
Reduced Storage: While many electric products are smaller, not having a gas can around your home and garage can clear up a few square feet of space.
An electric product is ideal for folks looking for a quiet mower that can handle a small lawn. Most can cut between 1/3 and 0.5 acres without needing to be recharged. Obviously, a corded model can do more, but when dealing with an extension cord, you're somewhat limited by your patience.
Though the mower will work on thicker grasses, electric lawn mowers are best suited for thinner types. If you have a tough lawn, it's best to mow frequently. You'll also want to be sure that the lawn is relatively dry. This helps improve the quality of the cut.
Should You Choose an Electric Mower?
Use of an electric option should be matched with your specific lawn care needs. In general, if you have a small lawn and the grass is relatively thin and easy to mow, these mowers are worth serious thought. But how small should the lawn be to make it suitable for this kind of mower?
A general rule of thumb, this type of mower will making light work of mowing 1/3 of an acre and in some cases twice that. Anything beyond that and you will either need to buy batteries on Amazon or have extension lengths that are just too difficult to manage.
If you have a home with a half acre and access to an external outlet, few trees or other obstacles, and your grass isn't terribly thick, then either type of mower should get the job done.
If your home has lots of obstacles around it, you will DEFINITELY want to go the cordless route. And if you have more than 1/3 of an acre, you want to find cordless units that allow for quick swapping.
Lithium Ion vs. Other Technology
Before you buy a mower that is cordless, learn about the type, and expected lifetime, of the battery as well as the voltage. Lithium-ion will probably be best, as this technology is slowly moving into the field once dominated by alkaline and other technologies. Start by looking at voltage delivered. Most of the units we've reviewed offer similar voltage, but it will help to know this number.
Lithium-ion batteries tend to last quite a bit longer than other technologies, with tests showing they provide service three or four times as long as other types. You should also give serious consideration to the costs associated with going cordless, which will generally be greater than a corded electric lawn mower.
In general, these have what technicians call higher energy-density than most other rechargeables. They store more energy, which is a major consideration when choosing which electric lawn mower is best. They also operate at a higher voltage and, in testing, have a lower self-discharge rate than other options.
They keep going longer and, in the case of our reviews of high-quality products, may not discharge for months in average weather conditions. This kind of battery is smaller and will hold a charge for longer.
Final Thoughts
Each mower you'll shop for will have an indication of cutting heights. Almost every new product on Amazon has height adjustment, usually ranging from about an inch to around 4 inches. You should also pay close attention to whether this is done by moving each wheel up and down individually or if it has a single-lever height adjustment.
Starting your mower with one button is one of the benefits you get from moving away from gas. After all, convenience and ease of use are the primary factors you should consider if you want to buy the best mower for your home.
Based on the reviews we have listed on this page, you will probably get the best service from a high-quality electric lawn mower. Be sure to take time to understand the important differences and options. Reviews are important as you shop for the best battery powered lawn mower, but pay special attention to the design for your specific use. The extra knowledge will pay off year after year.