*** This post was updated on: January 1, 2022 ***
When I first started my seamstress business, it took me FOREVER to find the best sewing machine for my needs. There are just too many to choose from!
Did you know that, between all of the major brands, there are over 50 new models hitting the market every year? Some of them offer new and useful features, while others just change a few accessories to sell you something new.
In this article, I review the top sewing machines of 2020. No matter your experience level, I'll review the features that you need and some features that are nice to have, but not necessary.
We'll start by reviewing the top brands and models of sewing machines for beginners that are just starting to learn to sew. Then, we'll cover models with more advanced features for intermediate and advanced sewers.
With the selection ranging from basic machines from Brother to heavy duty computerized sewing machines, there's something out there for everyone!
Sewing Machine
Brand
Features
BeginnerSinger Quantum Stylist

Great for a Beginners
Good Features and Versatility
600 built-in stitches and 13 buttonholes

Check Price
Best OverallJuki TL-2010Q

Highest Stitches per Minute (1500)
Needle Threader and Thread Trimmer
Straight Stitch Only

Check Price
AdvancedJuki HZL-F600

Highest Stitch Quality
Needle Threader and Thread Trimmer
600 Built-in Stitches and 16 Buttonholes

Check Price
AdvancedJanome MC-6300P

Top Overall Design
Large Sewing Area
66 Stitches and 3 Buttonholes

Check Price
Best Sewing Machines
Here are the 9 best sewing machines that are available in 2020. This list covers beginner, intermediate, and advanced models, below.
1. Juki TL-2010Q – Best Overall
The Juki TL-2010Q is my pick for the top sewing machine of 2020. Did we say that a machine in this price range might compromise on speed? Well, this machine is the exception.
The Juki TL-2010Q packs a whopping 1500 SPM, which is the fastest of anything that we have reviewed in 2020.
But be advised, like the Janome 1600P-QC, the TL-2010Q can only do a straight stitch. If you plan to sew drapes, pillows, and other basics, this will help you to get the job done fast.
Features
Sewing and Work Area: 8.5″x7″
Stitches per Minute: 1500
Automatic Threader
Foot Activated Thread Trimmer
Side Loading Bobbin System
Knee Lever To Control The Presser Feet
Please be aware that at 1500 SPM, this product may not be ideal for those who are just learning to sew. I recommend those just starting out buy a slower machine with more stitch options, such as zig-zag, satin, and blind hem.
Performance
Like the more expensive options, with the TL-2010Q you get an automatic threader and a trimmer that can be activated with the foot pedal. It also includes a knee lever to lift the presser foot while using both hands to hold the fabric in place.
One potential downside to the sewing machine is the thread tension adjustment. You have to make the adjustments manually, where the more expensive machines will have automatic tension adjustment.
It comes with a standard presser, 1/5 inch quilting, and an even-feed foot, as well as an auxiliary extension table, knee lift lever, and a variety of accessories and maintenance tools.
2. Janome 2212 – Best for Beginners
The Janome 2212 is the top sewing machine for beginners. It performs all of the stitching required for basic home decor and clothing, including a straight stitch, blind hem, zig-zag stitch, and it allows width and length adjustment. It also offers a four-step buttonhole.
A free arm allows you to hem sleeves and pant legs with ease. At just 13 pounds, it can be easily tucked away when not in use. Snap-on presser feet make it quick and easy to switch feet.
Features
Sewing and Work Space: 6.5″x4.7″
Stitches per Minute: 860
Easy Bobbin Winder
12 Built-in Stitches and 1 Buttonhole
Includes Multiple Presser Feet
Performance
Like other budget machines, the workspace you get is fairly small, at 6.5″x4.7″. This is normal for a sewing machine for beginners, but it is a bit small for large projects or bulky fabrics.
Out of the box, the sewing machine will come with multi-purpose, blind-hem, zig-zag, and sliding buttonhole feet. It also comes with three extra bobbins, a screwdriver, seam ripper, and set of spare needles. You may also be able to find different bundle deals to buy on Amazon, offering additional feet and bobbins.
3. Singer Quantum Stylist – Best Computerized Sewing Machine
The Singer Quantum is another excellent sewing machine for beginners. It has specialty stitching and features some of the bells and whistles of fancier models, including automatic needle threading, needle up and down control, and auto thread cutter.
Unlike some cheaper machines out there, the feed dogs on this Singer can be disengaged, which is ideal for free-motion sewing.
Features
Sewing and Work Space: 6.5″x4.7″
Stitches per Minute: 850
600 Built-In Stitches and 13 Buttonholes
Variable Sewing Speed
Automatic Tension Control
A speed control slider lets you choose your own pace. Tension is controlled automatically, and so is the stitch length and width. The Singer Quantum Stylist comes with 600 built-in stitches and 13 1-step buttonholes.
Performance
This machine is ideal for making basic home decor, personal clothing, and fabric embellishments.
Singer's Quantum Stylist comes with an assortment of presser feet, including an adjustable bias binder, single-welt cording, stitch-in-the-ditch for seams and edges, fancy-trim, clear piping, all-purpose, zipper, buttons, satin stitch, open toe, blind hem, overcasting, narrow hem, cording, 1/4-inch, even feed, and darning & embroidery feet. In addition, this machine has a braiding foot and guide, buttonhole foot with underplate, clearance plate, and the usual accessories: one pack of needles, bobbins, seam ripper, brush, auxiliary spool cap, spool pin felt, screwdrivers, spool caps, seam guide, and quilting bar. It has a top drop-in bobbin.
You may also consider one of the newer models of this machine, the Singer Quantum Stylist 9970, which is the same sewing machine but with more accessories and stitching choices.
4. Singer S18 Studio Computerized Sewing Machine
The Singer S-18 is a sturdy, powerful, intermediate sewing machine that is a great buy and well worth its money. This computerized machine has a heavy duty metal frame and produces impeccable stitching. It is as intuitive and user-friendly as you could want, straight out of the box.
The added convenience of a knee-lever for lifting and dropping the presser foot, the programmable needle up and down functions, and the extra large work area make Singer's S18 a great machine for larger projects. This sewing machine also an extension table for larger projects.
Features
Sewing Space: 9″x6″
Stitches per minute: 1,000
400 built-in stitches, 7 automatic buttonholes
Wide assortment of feet included
The Singer Studio will get an experienced seamstress through large amounts of fabric quickly. Singer's variable speed control will allow beginners to slowly become more comfortable with higher speeds, which makes it a great choice for an aspiring seamstress, or an experienced seamstress looking to upgrade.
Performance
It has 400 built-in computerized stitches, seven buttonholes, and abundant included feet, making it one of my favorite computerized sewing machines for home use. However, sleeves could be difficult to sew on this machine, as Singer's base does not adjust to a smaller size.
Whether you are a beginner or an expert, it's easy to appreciate Singer's computerized needle threader and thread cutter when working on small projects or making clothing. A backlit LCD screen alerts you to any malfunctions, such as an incorrectly wound bobbin.
The Singer S18 Studio comes with everything that you need to get started, including all-purpose, button, overedge, narrow rolled hem, zipper, satin stitch, blind hem, cording, overcasting, buttonhole, darning and freehand, quarter-inch, walking, and open toe feet.
Singer has also included screwdrivers, lint brush, spool caps, needles, seam ripper, bobbins, edge and quilting bars, knee lifter, adjustable seam guide, instruction manual, quick start guide, power cord, foot controller, and an accessory storage box.
5. Juki HZL-F600 – Best for Quilting
In my opinion, the Juki HZL-F600 is the best sewing machine for advanced sewers. The computerized HZL-F600 is an all-around dream machine and is great for beginners and seamstresses alike. It has the largest under-arm space and includes 600 built-in stitches.
This makes it great for sewing anything from simple clothing to more advanced dresses with difficult fabrics.
Perfect for home use, it is a quiet sewing machine with an impressive feature set.
Features
Sewing and Work Area: 8.5″x12″
Stitches per Minute: 900
600 Built-in Stitches and 16 Buttonholes
Extension table to use with larger sewing projects
Independent Bobbin Winder
Kneebar for hands-free presser foot lifting
Automatic thread trimmer using the pedal or pre-programmed button.
Box feed technology increases stitch quality and eliminating shrinkage and shifting.
Performance
For sewing clothes, the Juki HZL-F600 has 16 types of built-in buttonholes and 600 different stitch patterns, including numbers and letters. A large LCD display makes pattern selection easy, even for beginners. The automatic buttonholer makes buttonholing easy. To make a buttonhole, the button is placed on the foot and the computerized sewing machine makes a properly sized buttonhole.
Juki's HZL-F600 has a bevy of feet to make getting started easy, including a walking, quilt pressing, edge presser, and patchwork presser foot.
The Juki HZL-F600's extra width enables you to handle a wide variety of tasks. It has a handful of VERY useful computerized features including the automatic top and bobbin thread trimmer, threader, and the flexibility of auto or manual tension. Juki's heavy duty build quality means you will be able to count on this sewing machine for YEARS to come.
In terms of finding the top machine for quilting, this one is tough to beat.
6. Janome 1600P-QC High Speed Sewing Machine
The Janome 1600P-QC is a heavy duty sewing machine for the home. It combines the speed and strength of an industrial machine with the ease and quiet of a consumer-grade model. The reason for its second-place finish was simply because it has less working room than our top pick.
It is a workhorse and is ideal for the seamstress that values her time, as well as the power and simplicity of a more heavy duty product.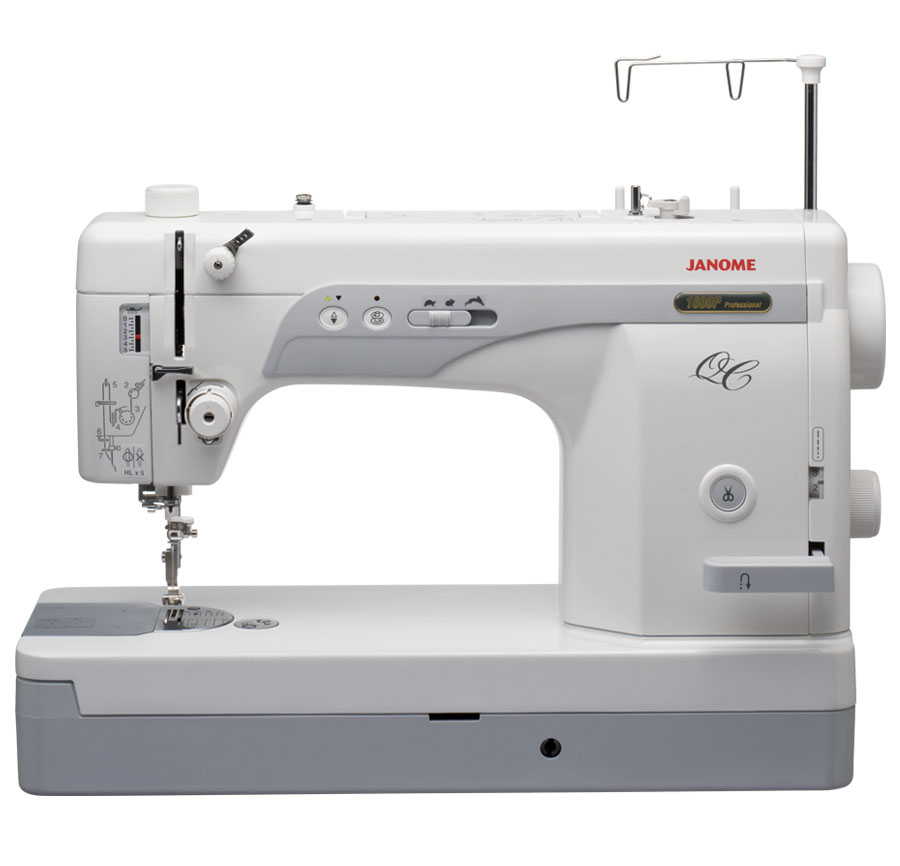 Features
Sewing and Work Area: 6″x9″
Stitches per Minute: 1600
Automatic Top and Bobbin Thread Cutter
Built-in Threader
Knee Lift To Control The Presser Foot
Up and Down Needle Button for Stop Position Control
It is important to note that this is a straight stitch machine. If you are planning to sew clothing with buttonholes, or you enjoy finishing projects with decorative stitches, this model may not be your top option.
Performance
What it lacks in variety and fancy functions, it makes up in speed and power. This sewing machine will sew through several layers of thick material, including canvas and some lightweight leathers, without slowing down.
The Janome 1600P-QC can do 1600 stitches per minute, and the control slider makes it easy for you to adjust it to a rate where you are comfortable sewing.
It includes a number of features to increase your overall efficiency greatly.
Though specialty stitching can be useful (and fun!), there are still plenty of sewing projects that you can complete with a straight-stitch.
If you do not require zig-zag and other specialty stitches, this heavy duty sewing machine might be a good buy for you. A machine with lots of additional features is great, but the fewer the features, the less that can potentially break! It's also among the easier machines to use on large projects and bulky fabrics!
7. Janome MC-6300P Computerized Sewing Machine
The computerized Janome MC-6300P is a great all-in-one machine! Buttonholes, zippers, zig-zag, free motion; this sewing machine does it all.
The Janome MC-6300P combines speeds up to 1,000 stitches per minute, and has loads of additional computerized features that advanced sewers and seamstresses will truly appreciate.
Specialty sewing stitches are nothing new; my Grandmother's 1950's era Singer had a number of specialty patterns, accessed using an assortment of "cams" that were inserted into the machine. An affordable computerized sewing system that can handle any project beats a mechanical system any day.
Features
Project and Sewing Area – 8.8″x4.7″
Stitches per minute: 1,000
66 Stitches and 3 Buttonholes
LED display for easy-to-read information
Low bobbin indicator light
With computerized machines, you no longer have thread tension guesswork. The automatic cutter and bobbin winder also save time and money. It will stop sewing when you have the presser foot up, reducing mistakes and eliminating a major cause of tangled threads.
Performance
One reason we chose to include this particular sewing machine in our reviews is the larger project space. The MC-6300 makes it much easier to sew bulky fabrics for placemats, table runners, and bedspreads.
In addition to a large working area of 8.8″x4.7″, a clear extension table is included with this machine along with the free-motion foot.
This free motion allows you to use lots of creativity, and you can "doodle" your own freehand designs into the fabric. If you are looking for a bit more flexibility, the Janome MC-6300P is an excellent choice.
8. Brother CS6000I – Best Portable Sewing Machine
The Brother CS6000I is super lightweight and is well-suited for someone that is just jumping into sewing! It's perfect for sewing basic clothing and home decor, such as throw pillows, curtains, fabric tablecloths, napkins, and more. Brother integrated a free-arm design, which allows you to have quick access to collars, sleeves, and pant hems.
A sewing machine at this budget level is cheap, basic, and easy to use straight out of the box. The speeds of these machines will vary. To an experienced seamstress, they will likely seem slow. But for beginners, these machines can help build your confidence sit's it's not as fast. When buying on a budget, always read the Amazon user's feedback thoroughly.
The Brother machine has 25 different patterns, which can be accessed via a dial on the front panel. If you are intimidated by sewing buttons on to fabric, this sewing machine also offers a 1-step button-holer to make it easy.
Features
Project and Sewing Area: 6″x4.5″
Stitches per Minute: 850
60 Built-in Stitches, 7 Buttonholes
Feed Dogs Drop
Featherweight at 13lbs
If you are interested, the feed dogs will drop to allow for free motion sewing.
At just 11 pounds, this machine is very portable and is ideal for the occasional or on-to-go seamstress. Brother makes a machine that is light enough to take anywhere and easy to stow away when it is not in use.
Performance
The Brother CS6000I has gotten rave reviews and is incredibly popular on Amazon, and I can understand why. It performs all of the basic functions and is a bargain to buy. Consumer Digest even named the Brother CS6000I a "Top Buy" among computerized sewing machines!
A built-in accessory storage compartment contains a selection of accessory feet including zig-zag, buttonhole, button sewing, zipper, narrow hemmer, and blind stitch feet. Other accessories include a darning plate, accessory bag with needle pack, twin needle, extra spool pin, screwdriver, bobbins (3), power cord, and operation manual. Important for beginners, Brother makes bobbin winding easy, and this sewing machine has a top loading bobbin.
The simple controls and comprehensive functionality make the computerized Brother CS6000I a good choice for a beginner, and it may be the easiest-to-use basic sewing machine out there.
9. Singer 1304 – Best Budget Sewing Machine
The Singer 1304 is an entry-level sewing machine. Personally, I prefer using the Brother, but this Singer is still one of the best budget models for just starting out. It comes with basic feet, including an all-purpose, zipper, and buttonhole foot.
It also has a darning plate, pack of needles, bobbins, needle plate, screwdriver, spool pin felts, seam ripper, lint brush, foot control, and soft-sided dust cover.
The Singer 1304 will perform a variety of standard patterns including straight, satin, zig-zag, blind hem, scallop, and a 4-step buttonhole. A dial on the front allows for easy selection of the stitch.
Features
Project and Sewing Area: 5.5″x5″
Stitches per Minute: 400
6 Built-in Stitches, 4 Step Buttonhole
Free-Arm Convertible
It regulates tension automatically, as it does with stitch length and stitch width. This is a good feature, as it eliminates guesswork and the frustration involved with adjusting settings. Twin needle sewing is also possible, as it has dual spool pins.
This Singer is free arm convertible, meaning that you will have an easier time making sleeves, pant hems, collars, and cuffs. The machine has an internal metal frame for durability and stitch consistency.
This Singer is not a great sewing machine for quilting, as there is not enough room to sew large and bulky projects comfortably.
Performance
Singer is a trusted manufacturer with excellent customer service. This sewing machine is perfect if you are on a tight budget and only need basic functionality.
There is a newer version of this model available on Amazon, the Singer 1234. The newer version appears to be very much the same machine, but with a carrying bag, access to an online class, and decorative decals for personalizing the machine. The Singer 1234 is more expensive than the Singer 1304, so I would only consider buying this as a gift.
Important Sewing Terminology
Let's take a look at some of the terminology we're using. Having a clear understanding of what you want to do and what each sewing machine is capable of will help you pick the right machine for you. One that not only serves your needs now but will allow you to grow into future sewing projects.
Let's discuss some of the features that will help you choose which machine is suited for your specific needs. This makes the decision-making process much simpler.
Speed (Stitches per Minute)
This is the maximum speed at which a sewing machine will sew. Faster is always better, right?
Not necessarily!
If you are experienced and accustomed to working quickly, extra speed is wonderful! If you are a beginner and are not used to using a pedal, your project might "run away" from you if you push the pedal too hard.
Some units have a control slider so that no matter how hard you press the pedal, it will only go as fast as the setting you have chosen. Personally, I like this method.
Maximum Stitch Width
This applies to machines that will perform more than just a straight stitch. If it offers a straight stitch only, this part will say "N/A". If you are planning to do embroidery or applique, a wider maximum stitch width will help you enjoy more flexibility and creativity.
Working Space
This refers to the area to the right of the needle and is also referred to as the throat. The larger the working space you have, the easier it will be for you to maneuver your sewing projects. Having more room is particularly useful for large projects and bulky fabrics.
Automatic Thread Cutter
This is a luxury feature that experienced seamstresses may find useful. The thread cutter is operated by either a button on the chassis or by the pedal, which cuts both the bobbin and top threads, close to the project. This can save a significant amount of time spent cutting tails. It can also save money that would otherwise be spent on wasted material. This feature is usually available on mid to high-end machines.
Built-in Threader
This is another feature that is nice to have on a sewing machine but is not necessary. A lever threads the machine for you, eliminating a lot of squinting and frustration when you are trying to do it manually and allowing you to quickly start sewing.
Manual vs. Automatic Thread Tension
Tension management can be incredibly frustrating for novice and experienced seamstresses alike. Automatic thread tension helps to reduce frustration. You simply tell the sewing machine what fabric is being used, ensure that the correct needle is inserted, and it does the rest.
Adjustable Stitch Length
One option that comes in very handy is an adjustable stitch length. This allows you to give the stitch a slightly different look to a finished hem. You won't typically find this on a lower priced sewing machine, but it's worth having if you are going to be sewing a great deal.
Number of Stitches
Every machine will offer, at minimum, a straight stitch. Most machines will offer a zig-zag stitch as well, and then you get into stretch stitches, blind hems, etc.
When a sewing machine has hundreds of patterns, there are often a host of decorative choices including alphabet letters, numbers, flowers, and much more.
Some seamstresses find these to be worthless, while others find them to be fun and an additional way to express their creativity.
How To Choose A Sewing Machine
We are not covering industrial grade options in this article, because most home and hobby sewers, and even small cottage business owners, simply don't need that level of performance.
Our 2020 comparisons feature machines that are great for serious hobbyists and small cottage business owners who know how to use a sewing machine or are serious about learning to sew, and who plan to turn out new projects on a fairly regular basis. You can find most on Amazon and, sometimes, in a good craft store. I prefer to buy on Amazon because they have a better selection than any store around me.
Each machine will have a larger working area and lots of features. These include tension adjustment, thread cutting, and other automated functions. They will often come with a variety of presser feet for all sorts of applications.
If you are just exploring the world of sewing and aren't sure what you want to sew, or if you just want to have a tool around the house for repair and clothing alterations, it may be better to buy a lower-priced sewing machine from Amazon to start, like the Brother CS6000I.
Every machine in this article can be used for hemming, repairing, and easy home decor, but as we said above, will offer more power, and automated functions than some of the lower priced machines. Some are ideal for quilting applications as well, offering extra space to the right of the needle, with some offering an extension table.
Motor Size
Knowing the type of materials you will be working with can help you determine how strong of a motor you'll need. Denim, leather, and other materials are tough and can take a toll on a sewing machine that utilizes plastic parts instead of metal. A stronger motor will also sew heavy duty materials more quickly.
The downside to a strong motor is that the machine will tend to weigh more. If you are not planning on moving your machine very often, this isn't a big deal but, if you need it to be portable, keep this in mind.
Weight and Size
You need to consider who the sewing machine will be for. Do you want your machine to be portable? Will it need to be stowed away when not in use? If being portable is important to you, make sure that the machine you choose will not be burdensome to you.
Quilting Machines
If you are planning on sewing and quilting, you'll want to look for a machine with different options than many of those I've included here. Here is another article that specifically talks about the best sewing machines for quilting.
Serger Sewing Machines
If you're interested in making clothes that have a clean finished look, you'll probably want to look into a serger. A sewing machine will allow you to do the most tasks, but sergers make "finishing" projects much faster. Check out our serger reviews for more information.
The Three Types of Sewing Machines
There are three general types of sewing machines: mechanical, electronic, and computer-based. Let's take a look at some of the features of each.
Mechanical
Remember your grandmother's sewing machine? Most likely it was a mechanical model.
They run on electricity (of course), but most adjustments must be made by the seamstress. Using a mechanical sewing machine can be more laborious, but they are one of the easiest ways to learn to sew since a mechanical machine will not have all of the "done for you" capabilities of a more advanced machine. They also happen to be the cheapest way to get started with sewing in 2019.
Electronic
The next step up from a mechanical machine, electronic sewing machines offer more functions and require less manual operation from the sewer. Some features include stitch length adjustment, tension adjustment, and automatic thread cutting. They even have certain stitches pre-programmed so that all you have to do is enter the selection and it takes care of the rest. One example of an electric model is the Janome HD1000.
Computerized Sewing Machines
For experienced sewers, a computerized sewing machine can be a great time saver. They incorporate databases of stitches that can be chosen, and the machine will make all of the necessary adjustments for needle position and tension settings.
Are you interested in monogramming and embroidery? Check out our Brother SE400 embroidery machine review.
Final Thoughts
This guide could easily cover a hundred or more wonderful machines. The sewing machine market is huge and, as we said above, choosing the model that is right for you can be a difficult task.
These products for 2020 are not brand new to the market. These sewing machines have been on the market long enough to allow all possible kinks and problems come to light. We chose each machine because of its quality and reliability, relative to its price points. We will continue to add sewing machine reviews to this article as we see fit.
We hope that this guide has helped you to pick the right sewing machine for your particular skill level and needs. And, if not, we hope that it has at least helped you to think about what it is that you will need from whichever model you choose.
We welcome any additional comments, questions, or suggestions that you may have. If you have used one of the above products and can attest to the quality (or if you detest it!), please let us know! Your additional comments will help other readers to make an informed decision.
Is there an additional sewing machine that you would like to see? Drop the model number in the comments below and we'll take a look.
More Sewing Machine Articles
https://www.thetoolreport.com/singer-4423-review/
https://www.thetoolreport.com/janome-8900-review/
https://www.thetoolreport.com/janome-hd3000-review/