** This post was updated on: May 2, 2022 ***
Inverter generators offer some serious advantages over conventional models. They're highly portable, relatively quiet, and offer clean, stable power. This makes them ideal for any number of circumstances.
So what's the best inverter generator on the market?
The 2000W category is ideal for quiet uses including camping and hunting. Here are our top 5 models. If you need more power than this check out our 3000 watt generator reviews.
Our Top Picks
Best Inverter Generator – 2022 Reviews
1. WEN 56200i – Our Top Pick
The WEN 56200i 2000 watt generator is our pick for the best inverter generator. While the Wen doesn't offer quite as much power as the second place Honda, it comes in WAY under in terms of price.
On top of that, it's an extremely reliable generator with a feature set that rivals much more expensive models.
Features and Performance​
In terms of outputs it offers a whole slew of power options including:
2 x 120V AC @60Hz Ports
12V DC Port
5V USB Port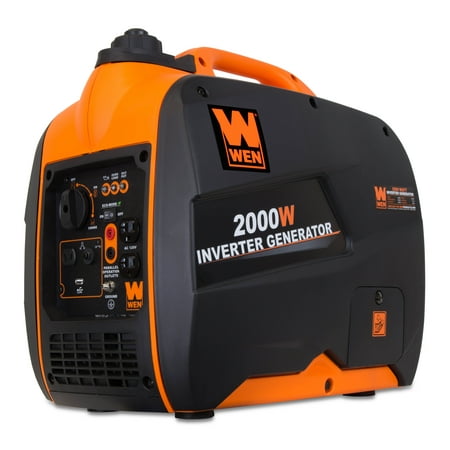 In terms of performance the Wen offers most of the same capabilities of the other two units. At 1600W it matches the continuous output of the Yamaha EF2000i and is 200W shy of the Honda. As with the other two units it can be run in parallel with an additional connection kit which is sold separately.
Out of the box you'll need to add oil and fuel. This took just a few minutes and we were ready to go. On the first pull the WEN started up easily and smoothly.
We tested out a variety of equipment on it to see what it could handle. Most impressively it managed to run a 5000BTU window unit air conditioner without even kicking it out of ECO mode.
It's a great unit for tailgating as it's super quiet and offers a whole slew of outputs for charging all your devices and running your TV.
Run-Time & Efficiency
With a run time of 6 hours at 25% load the WEN has the shortest run-time of the group. That coupled with the smallest engine, means it's the least efficient portable in terms of fuel usage.
​That said you can parallel this guy to another identical unit (for a total price that still less than the Honda) and double your power output. It does require a separate parallel cable kit.
Portability
Like the Honda the Wen has a streamlined shape that makes it easier to carry. At 48lbs it's right in the middle of the pack on weight. Like the other two units it does not have wheels.
Pros
EXCELLENT PRICE
Parallel Capability
Effective Energy Saver Mode
Variety of output options
Cons
Loudest of the group
Shorter run-time than other units
Maintenance and Warranty
The warranty on this unit is 2 years parts and Wen does have a nationwide network of service technicians. It's not nearly as large as Honda's so that's something to consider in terms of repairs.
Final Verdict:
In terms of getting the most bang for your buck it's tough to beat the WEN 2000W. It offers nearly 7hrs of run-time per tank, a whole host of outputs for powering your devices, and is super quiet.
It doesn't offer quite as much power as the Honda, but you can buy 2 WEN's for the price of one Honda and parallel them together.
2. Honda EU2200i – Longest Run Time
The EU2200i from Honda is a reliable workhorse. It finished in second place only because it's priced significantly higher.
It has by far the largest engine in the group at 98.5cc. This translates into better handling of large loads (over 1000W) as well as larger inductive (startup) loads without tripping it's overload circuitry.
Honda also just happens to have the widest network of service centers in the country. So if something DOES go wrong, you won't have to go far to get it fixed.​ This can be extremely handy when you're traveling around the country in an RV or camping.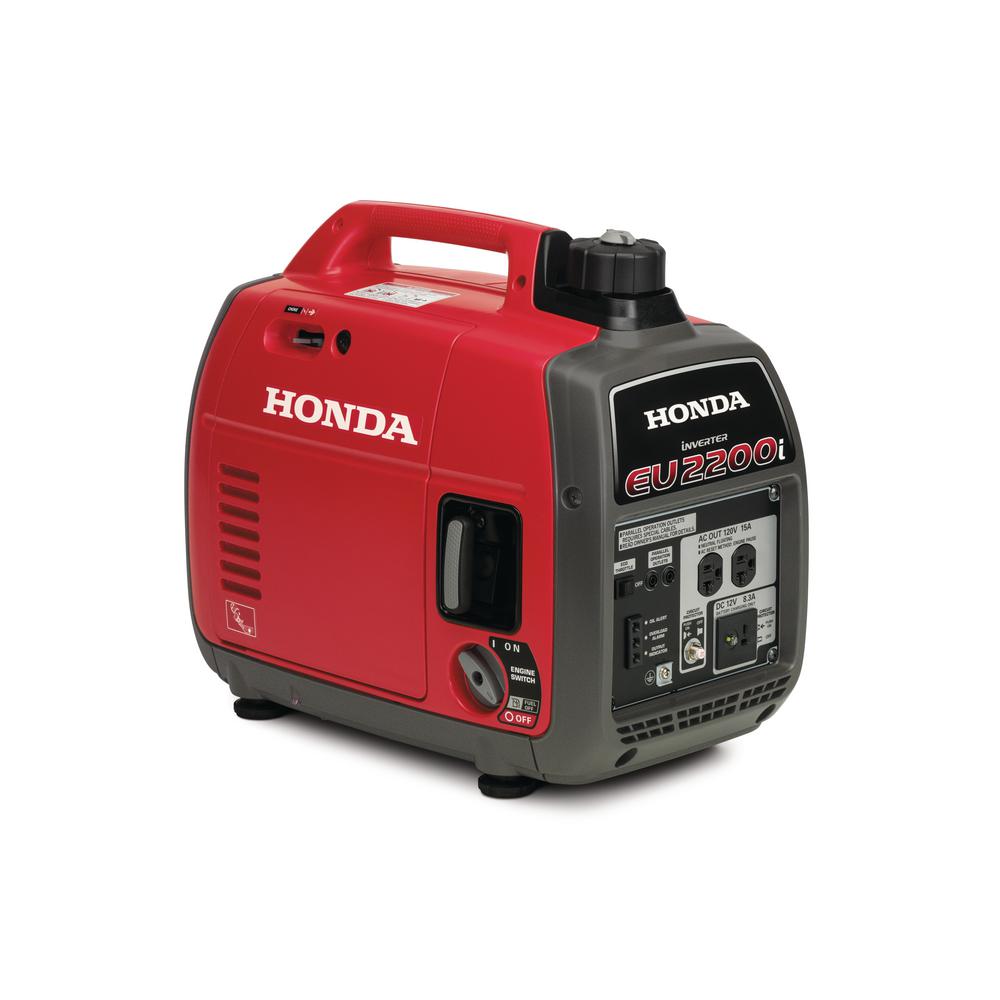 Features and Performance
Unless you've been living in a hole for the last 40+ years you're aware that Honda makes some of the best and most reliable engines on the planet. In fact they've been making generators almost as long as they've been making cars. And this portable unit is no exception to their tradition of quality.
The feature set is fairly similar to the other two in our comparison with the exception that the 12V DC output is unregulated so you'll want to use a proper 120V charger. It's also capable of being paired with another unit to increase total power output (requires separate adapter).
Run-Time & Efficiency
The run-time at 25% load for the Honda is 8.1 hours. At the rated (1800W) load this drops to 3.4 hours. This is slightly less than the Champion, but a good bit ahead of the Wen.
Honda's "Eco Throttle" system balances the engine speed to the required load. This allows the unit to be as fuel efficient as possible.
Portability
At 45lbs the EU2200i is relatively lightweight. It has a convenient handle on the top for carrying and it's streamlined shape makes it a bit less cumbersome to walk with than the square Champion. If carrying weight is a concern, this just happens to be the lightest portable unit of the group.
Pros
Extremely quiet
Parallel Capability
Honda worldwide service network
Can run 8hrs on one tank at 25%
Cons
Maintenance and Warranty
There are two big selling points for the Honda.
3 Year Warranty paired with solid construction and reputation
Wide network of service technicians
While WEN has a decent network of warranty repair shops, with Honda you can most likely find a qualified technician ANYWHERE. This is a huge advantage when you're relying on your generator for power in more remote areas.
While the Honda is nearly twice the price of the second place Wen, you only pay for quality once. And when it comes to backup power (or reliable power when you're on the road) the quality of the Honda trumps the cost savings of the Wen. For more information you can read our full Honda EU2000i review.
Final Verdict
The Honda name is built on their reputation for reliability. Yes it's pricier than some models in this category, but you only pay for quality once. Honda's wide service network means you'll almost never be far from a qualified technician and parts. When it comes to reliable backup power what else can you ask for?
3. Yamaha EF2000iV2 – Great Camping Generator
The EF2000iV2 from Yamaha is combines clean power, low noise, and a very affordable price. It runs at a continuous 1600 watts. The startup capacity is 2000W for induction loads like refrigerators and other equipment that draw more energy when powering up.
It offers the longest run-time in the group, and features a smart throttle that controls the engine speed based upon the current load. This is allows it to run for 10.5hrs on a single tank of gas. At 51dB (25% load) it's also the quietest unit in the group, making it one of the top inverter generators for camping.
Part of the reason they're able to offer this unit at such a low price is that the production takes place in China. However their strict quality control guidelines and oversight by Yamaha management result in a top notch product that is as reliable as what you would expect from a name like Yamaha. On top of all this they offer stellar customer support.
Features & Performance
Outputs include 2 120V (13Amp) outlets and a 12V charging outlet.​
It has an economy mode that controls the engine speed based on the load. It is especially quiet while running like this, but larger loads will force the unit out of Eco mode.
There is also an automatic shut-off for low oil situations.
One particularly nice feature is the fuel gauge which none of the other units in this comparison have. On the downside the Yamaha does not have a USB charging port for phones and tablets. These devices can obviously be charged using the 120V ports of which there are two.
One negative worth mentioning with the EF2000iV2 is that it's predecessors have a reputation for burning oil. Yamaha has supposedly addressed this issue in the V2, but our tests were not long enough to verify this.
Pros
Parallel capable and stackable
Efficient economy mode
Extremely quiet
Run-time of 10.5 hrs @ 25% load
Cons
Heaviest of the group
Uses a good bit of oil
Run-Time & Efficiency
The 79cc engine has the longest run-time of the group at 10.5hours at a 25% load. This gives it a substantial edge over the Wen and Honda units.
Portability
There are no wheels on the unit. At 44lbs it's not so heavy that you can't carry it, but for older folks it could be a bit tough to manage. To be fair, none of the other units in our comparison has wheels.
Maintenance and Warranty​
The Yamaha comes with a 3 year warranty on parts. While not as extensive as Honda, Yamaha does have a good network of qualified repair facilities. This comes in very handy if your using it as a camping generator. If something goes wrong with your unit, simply look up a qualified service center in your area.
Final Verdict:
With it's abundance of clean reliable power, long run-time, and low price the Yamaha edged out the other two for the top spot in our best inverter generator comparison. It's a great solution for a variety of needs and is backed up by Champion's first rate customer support.
4. Briggs & Stratton 30651 P2200 Powersmart
Briggs & Stratton have been making reliable engines for nearly 100 years. The P2200 is another reliable inverter generator that offers clean power, 8 hours of run time, and relatively quiet operation.
It comes in fourth place because it creates slightly more noise at 59dB while running in Eco mode. That said it offers the largest engine in it's class allowing it to create clean and consistent power for even sensitive electronic devices like laptops, smart phones, and tablets.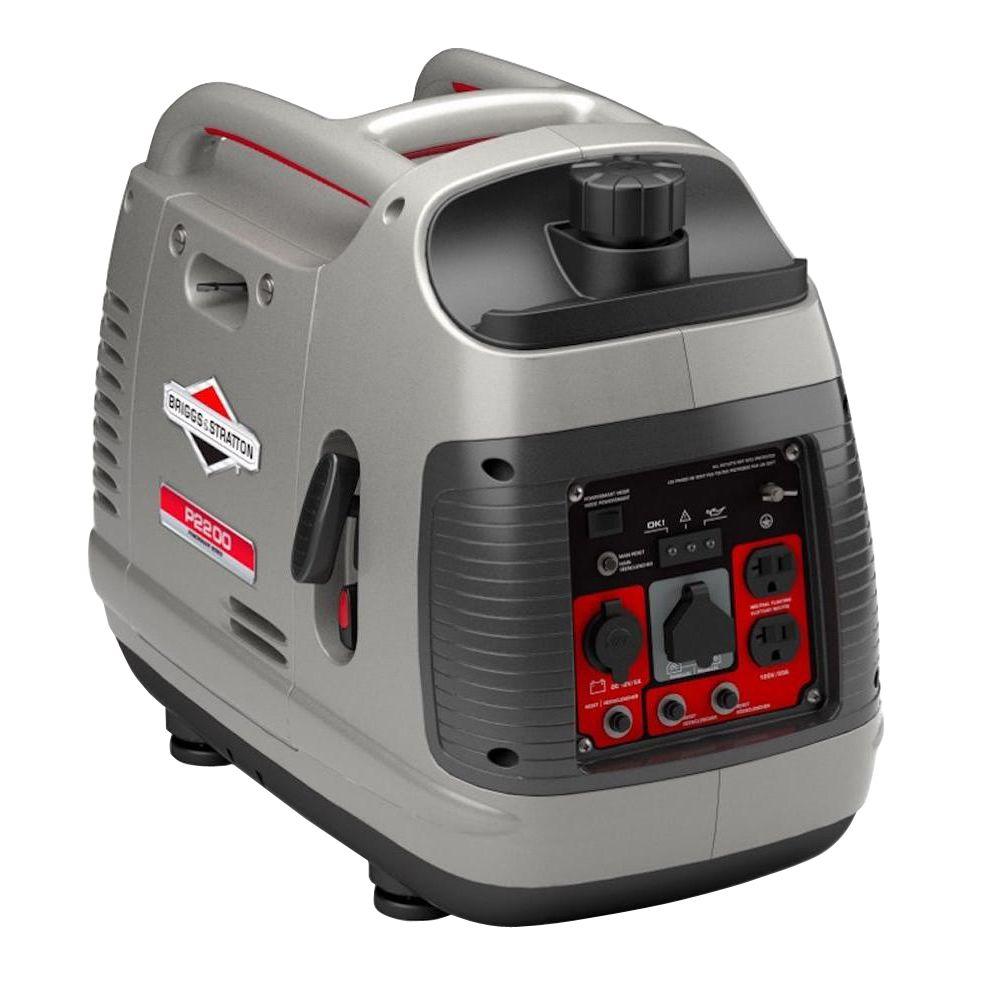 Features & Performance
Outputs include 2 120V (13Amp) outlets and a 12V USB charging outlet.​
Pros
Parallel capable
Efficient economy mode
Run-time of 8 hrs @ 25% load
Cons
Run-Time & Efficiency
At a 1/4 load it operates at just 59dB and can run for 8 hours on a single tank of gas. If you're powering an RV and need more power you can easily parallel two units to double power output. This is generally sufficient to power an AC unit.
Portability
The Briggs & Stratton is on the heavy side compared to the other products in it's class. It weighs in at 54lbs dry. There is a clever second handle that allows for 2 people to carry the unit which is nice if you've got someone around to help.
Maintenance and Warranty​
The warranty on the P2200 is 24 months. Briggs & Stratton engines are common place enough that you should be able to find an authorized service center just about anywhere in the country.
5. Champion 100263 3400-Watt – Best for RVs
Sometimes you need more than 2200 watts of power. The Champion 100263 is our favorite pick for those looking to power an RV.
The Champion 3400 watt generator is quiet, offers dual fuel capability, and will run for 8 hours on a single tank of gas.
It offers plenty of power to handle running your AC through the night. You can get even longer run-times when you hook it up to a propane tank.
And on top of all this it runs at just 59dB​, which is in line with the small Briggs & Stratton.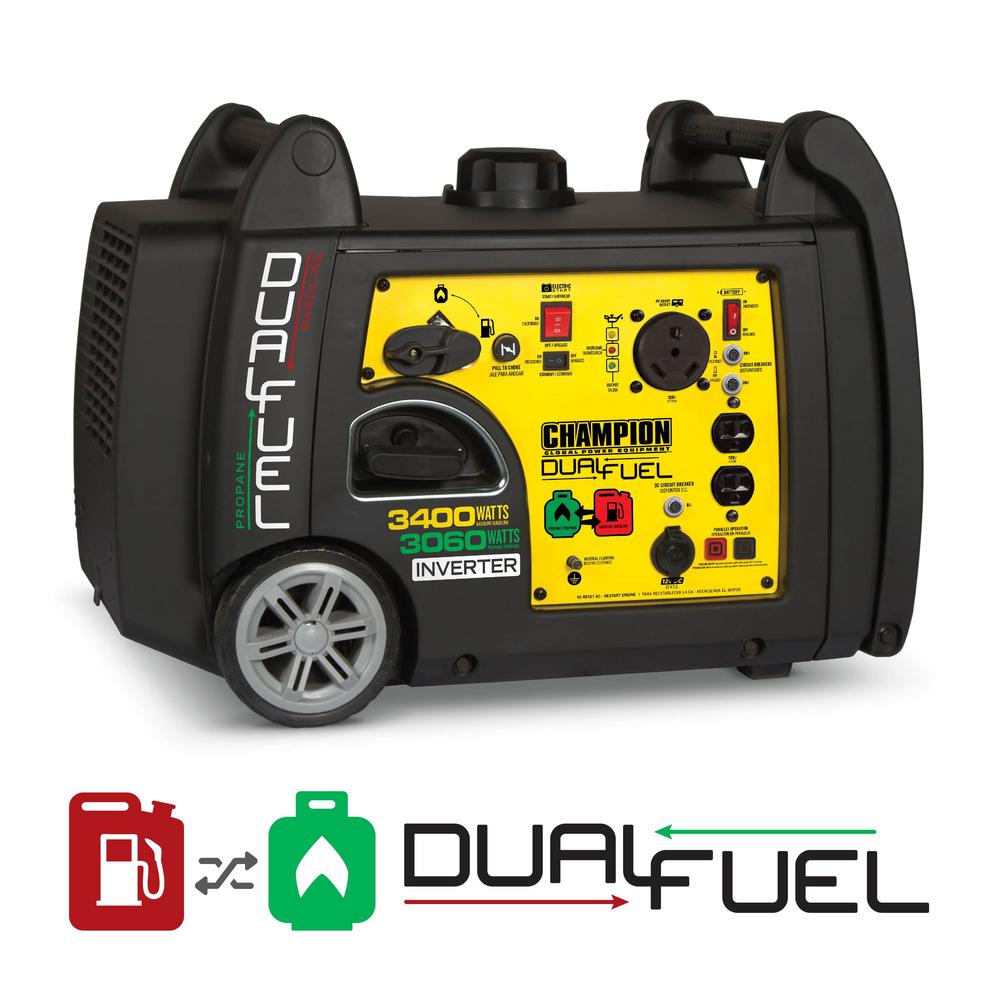 Pros
Dual fuel capable
Efficient economy mode
Run-time of 8 hrs @ 25% load
59dB at 25% load
Cons
Features & Performance
One particularly nice feature on the Champion is the ability to run it with either gasoline or propane. This allows you to run the generator longer than if using traditional gasoline. At a 25% load it will run for 14.5 hours!
Who Needs a Portable Inverter Generator?
Portable generators have been around for decades. But it's been within the last few years that inverter technology has made the products safe for sensitive electronic devices such as modern TVs, BluRay players, smart phones, tablets, and computers.
There are even solar-powered generators like the Yeti-400 that we reviewed available that utilize inverter technology.
In addition to providing extremely clean power, the generators we've selected in our comparison are also extremely quiet. This makes them ideal for a whole new set of applications such as fishing, hunting, and camping as well as activities such as outdoor barb-b-ques and tailgating.
​While inverter generators are significantly more expensive than conventional models on a cost per watt basis, this is offset by some important advantages.
Quiet Enough for Camping
As someone who enjoys tent camping, I can assure you that a standard generator running in a campsite will earn you more than a few angry looks. But the models we are highlighting are so quiet that your neighbors are unlikely to even know it's running.
This style of generator is great for RV camping as well. A couple of the models we will be highlighting have 30A outlets specifically for hooking up to your RV to run air conditioning systems, refrigerators, and other devices. Most of these units even have enough power to accommodate a TV and lights as well.
Home Backup Generators
While they're not powerful enough to power air conditioning systems, these units will power the air handler in your home to keep the heat on with a gas-based furnace. They can also power a full-sized refrigerator in addition to lights and more.
For more information on units big enough to power most of your home check our post on the ​best home backup generators.
How We Determine the Best
There are a variety of factors and features that go into a reliable and feature rich portable generator. Some of the most important considerations include:
Quiet Operation
Lightweight and Portable
Clean Power for Sensitive Electronics
Highly Energy Efficient
Easy to maintain
Ease of Service
Conventional VS Inverter Generator Comparison
While there is no simple answer as to which type of generator is best, each has it's own set of advantages. Based on these, it's relatively easy to decide which type is best suited for your needs. Let's take a look at a few key features you should consider before making your purchase.
Fuel Efficiency and Run-Time
Since inverter generators are able to regulate engine speed based on current power demands they can be up to 40% more fuel efficient than standard models.
A standard generator must maintain a constant RPM in order to deliver the correct frequency of power. This is generally around 3600 RPM. As power demands increase, more fuel is used to meet this demand. But even under minimal loads the engine must maintain at least 3600 RPM
An inverter generator (IG) can run at much lower speeds because the technology incorporated into the unit allows for constant frequency output without a corresponding engine RPM. This means that an IG will consume less fuel when power demands are low, and can ramp up to meet additional load requirements.
Because of design differences between the two types of generators run-times can vary greatly. Standard generators are designed to supply a specific power output with less consideration for size. This means they generally have larger fuel tanks.
IG's are generally designed from the beginning to be smaller and more portable. This has a direct impact on the amount of fuel it can store. But even with smaller fuel tanks, many IG's have run-times of up to 10 hours due to their highly efficient engines.
A more efficient engine also has the added benefit of reduced exhaust emissions and a smaller carbon footprint.
Winner: Inverter Generators
Portability (Size, Weight, Wheels)
While many standard generators are considered "portable" they are often very heavy as they are essentially an engine and gas tank connected to an alternator. Design considerations for a regular generator give more priority to power output and run-time than to the size and weight of the unit. This would be an important consideration if you're looking to run equipment that requires a heavy load such as a plasma cutting tools or welding equipment like these.
Many standard generators are heavy enough that they require metal bars for lifting and/or wheels for moving.
As previously mentioned inverter generators are designed from the ground up to be more portable. As a result they offer lower power outputs (typically ranging from 500w to 4000w), but in a much more compact and lightweight design. As a result they are small enough and light enough to be carried by one person and can easily be stored in a car, RV or boat.
They certainly aren't light enough that you would want to go trekking into the woods with one, but compared to a standard model they are substantially smaller.
Winner: Inverter Generators
Noise Levels
This is an especially important consideration depending on the intended use of your generator. For applications like camping or powering equipment in areas that are sensitive to noise an inverter generator is going to be the way to go.
Many are designed with the following:
Quieter engines
Specially designed mufflers
Noise dampening technology
All of these combine to keep overall noise at remarkably low levels. And since IG's aren't required to maintain 3600 RPM to maintain a steady flow of clean power like a standard model, the engine is running lower most of the time as well. Some models produce as little as 50 dB (the equivalent of a normal conversation) of noise while running under a partial load, and less than 60 dB at full load.
Many conventional generators are rated well above that with some as loud as 75 dB. This would be the equivalent of a vacuum cleaner or the road-noise of a car traveling around 65 MPH. You can imagine this level of noise would make for some unhappy neighbors in circumstances such as camping.
Maximum Power Output
Conventional generators are available in just about any size ranging from 500 watts on the low end to 50,000 watts or more on the high end. Inverter generators are much more limited due to their primary design concerns of portability and noise. They typically range from 1000 watts to 4000 watts.
Winner: Standard Generators
Power Quality and Consistency
​In terms of the power produced there are significant differences between the two types.
Conventional generators are very basic in design. Essentially an engine hooked up to an alternator, the speed at which the engine runs determines the AC (alternating current) frequency. This is totally independent of the load. While in use, any increase in load will cause a subsequent increase in throttle to ensure that the speed of the engine (3600RPM) remains consistent.
The output from the alternator passes directly to the attached equipment with no regulation or processing.
Inverter generators are an entirely different beast.
While conventional generators pass electricity directly to the load, inverters utilize a rectifier to convert the alternating current (AC) to direct current (DC). To help smooth out any fluctuations in this power capacitors are used.
The next step involves "inverting" the DC back to clean AC power at the desired frequency and voltage. (typically 120VAC @ 60Hz). This produces a much more consistent and clean power that is completely independent of the speed of the engine.
The result is power that is comparable to the electricity generated by your utility company. This is very important when powering devices that are sensitive to power quality including TV's, cell phones, gaming systems, computers, and even some appliances.
So if you're planning on running these types of devices you're much better off with clean, regulated power.
Winner: Inverter Generators
Parallel or Tandem Operation
One particularly attractive feature of many inverter generators is that they can be used in parallel or combined to increase their power output.
Typically two identical units would be used to double the power output. This is accomplished while still preserving the primary benefits of portability and lower noise output.
This is a function that standard generators are unable to provide.
Generally all that is needed to accomplish parallel operation is a special cable that connects the two units. This can vary by unit, so be sure to read the details about the particular model you're looking at to ensure it provides for this capability.
Winner: Inverter Generators
Simplicity of Design & Repair
When it comes to simplicity of design there is little doubt that conventional models have the upper hand. Since they are basically an engine connected to an alternator there are significantly fewer points of failure. This can be important in certain circumstances and should not be overlooked when making your decision.
That being said, in the years that inverter generators have been around there is little evidence to suggest that they have a significantly higher failure rate than conventional models.
However, the more complicated circuitry and electrical components do make them more difficult to repair.
It really just boils down to what your personal preference. If you need something that is very simple to fix, a conventional model would most likely be your best bet.
Winner: Tie (Personal Preference)
Cost
While inverter generators do have many advantages, there is one potential downside. In terms of price per watt of power, they are significantly more expensive than conventional models.
Prices on inverters have continued to fall over the years but they are still significantly more expensive due to the amount of sophisticated electronics necessary to build them.
Which model is best for you boils down to deciding whether power output is more important than size, portability, and noise level.
Winner: Conventional Generators